The essential steps to close on your home with confidence
June is National Homeownership Month, and whether you're thinking about buying your first home this year or already well into the process, it can be both an exciting and overwhelming endeavor. If everything goes well, it may be one of your most significant life events.  
Buying a home can be one of the largest financial commitments you'll make in your lifetime, and the closing – when you financially and legally commit to your mortgage loan – can often feel daunting for that reason. It starts once the seller accepts your offer and wraps up when you sign the paperwork. There are a number of important steps in between, including services you'll need to shop for. 

Five tips for savvy homebuying 
Whether you're shopping for a mortgage or ready to close, here are five guiding principles to becoming a savvy homebuyer:
Prepare in advance. Learn what to expect and what questions to ask.
Don't rush. Take the time you need to make sure you understand what you're about to sign.
When in doubt, ask. Don't be afraid to ask questions until you feel comfortable with every detail.
Beware of mortgage closing scams. Scammers are targeting homebuyers, just days before closing on their new home, through an email phishing scheme. A few simple steps can protect you and your down payment and closing costs, often a homebuyer's life savings.
Trust your gut. If something feels wrong, speak up. Walking away may be better than signing a bad deal.  
To learn the first steps to take and the right questions to ask as you navigate the closing process, we have a number of resources that will help you close with confidence, including a step-by-step Buying a Home guide and a Mortgage Closing Checklist . We've taken these guides and curated for you the essential steps for closing on your new home:
Gather your financial documents for your lender
At this point, you've ideally shopped around for mortgage lenders, compared offers, and are ready to move forward with a loan and lender. Even though you've likely submitted information to get a Loan Estimate or a preapproval, you may be asked by your lender to submit additional information and documentation so they can get an even more accurate picture of your financial history. To help move the process along, start gathering these documents so you have them available when the time comes:
Pay stub from the last 30 days
W-2 forms, last two years
Signed federal tax returns, last two years
Documentation of other income sources
Bank statements
Source of your down payment 
To avoid any issues, make sure your documents are accurate and complete. If you are self-employed or your income is irregular, be aware that you may need to provide additional documentation, and your loan officer or housing counselor can help provide more guidance. 
If you received an initial Loan Estimate, keep an eye out for a revised form. Now that the lender has more complete information, some costs may adjust.  
Schedule your home inspection
One of the first things to do, once your offer on the house is accepted, is to get an accurate assessment of the home's condition. 
Many homebuyers don't realize that it's their responsibility to secure a home inspector. Your real estate agent may recommend providers, but it's important that you get a truly honest and thorough inspection – and that your inspector is accountable only to you. 
Also, by scheduling your inspection as soon as possible, you'll give yourself time to identify any problems so you can negotiate with the seller to get them fixed or get a credit for needed repairs. If your contract is contingent on an inspection, this also can give you an opportunity to back out of the agreement if you've uncovered significant issues with the home.
Tip: Check reviews for home inspectors online, including looking up their listing with your local Better Business Bureau, and ask your network of trusted friends and family for recommendations. 
Shop for your insurance and closing service providers
There are several service providers you'll need to choose before you can close on your home. Similar to shopping for the right mortgage and lender, getting multiple quotes from vendors can help you find a reputable company and a good value.
Home insurance
Your mortgage lender will likely require you to arrange your homeowner's insurance before you can sign for your loan to make sure your property is protected. If you don't buy it on your own, they generally buy it for you and incorporate the fee into your mortgage payment. This is generally more expensive than insurance you'd secure on your own and also may only cover the lender and not you. They may also require that you purchase specialty insurance for earthquakes or floods – not typically covered by standard insurance policies – but once you have quotes from insurance providers, you can share them with your loan officer to ensure it meets their requirements.
Title insurance
There are two forms of title insurance. Lender's title insurance protects your lender against problems with the title of your property, and it's generally required that you purchase this on behalf of your lender before getting a loan. To protect yourself and your equity, you may also want to consider purchasing owner's title insurance.
Closing service providers
The closing process can vary based on where you live, and in some regions, you're required to have a title agent, escrow agent, or closing attorney present at your closing. Your lender will let you know what's required and also provide a list of companies that provide those services. Know, though, that you can shop for your preferred providers.
Tip: Refer to the section Services You Can Shop For within your Loan Estimate (page 2) to identify other services that make up your closing costs. You're able to shop for these services in order to get the best deal.
Schedule your closing
Once you've determined who will be conducting your closing and you've arranged the closing services required by your lender, you can schedule your closing date. You'll pay for these services at your closing. Use our Mortgage Closing Checklist — your downloadable guide for checking off each important step of the closing process — to write down the contact information for the individuals conducting your closing, along with the date and location. 
It's also at this point that you can start to get more information about what will take place that day and what you'll need to bring with you so that you're prepared in advance. Ask your lender or closing agent these questions:
What documents will I need to bring to my closing?
How much will I need to pay, and how do I pay?
What happens if I decide to walk away at closing?
Beware of mortgage closing scams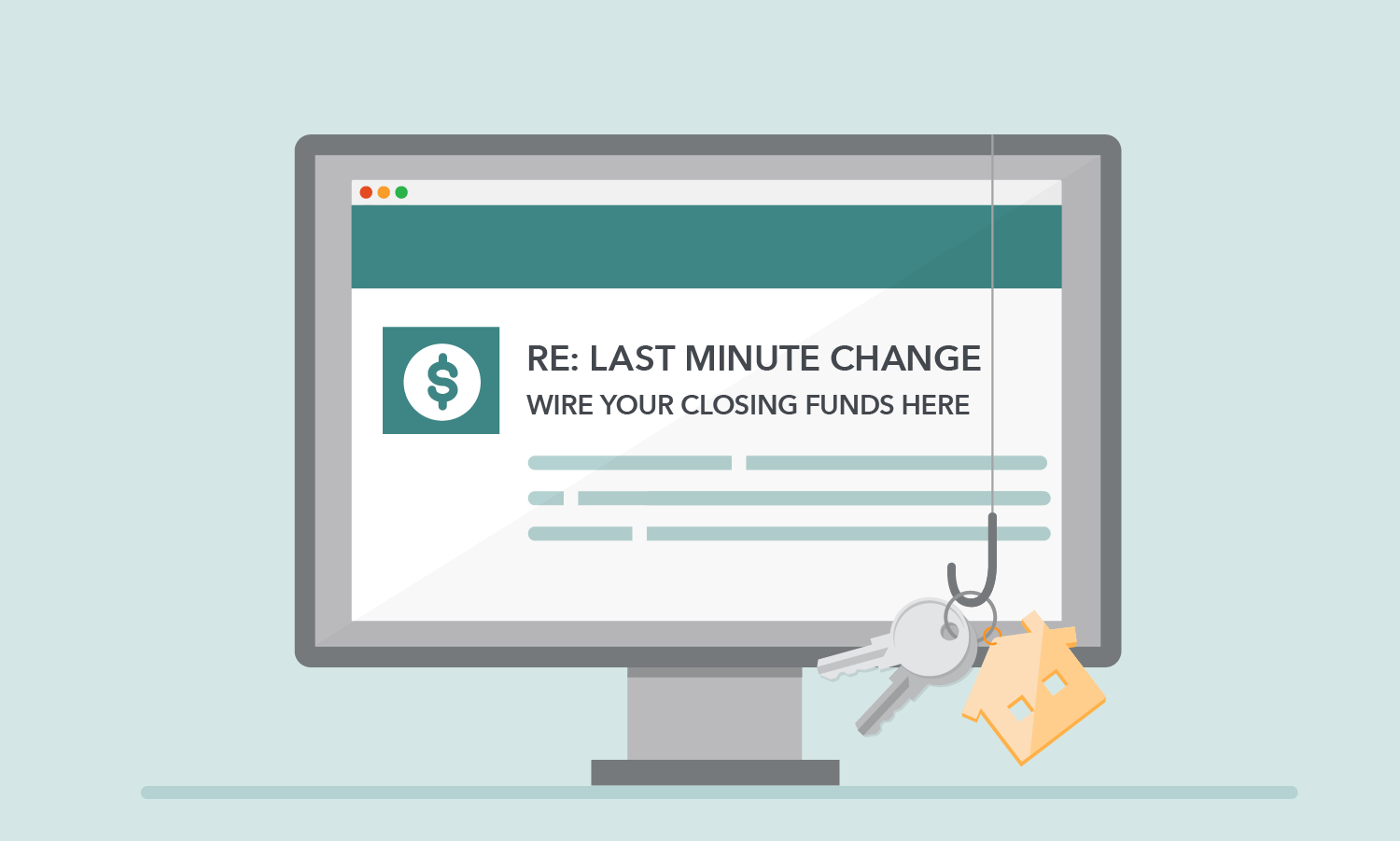 Just when you think you are nearing the finish line with your new home, here comes another hurdle! Scammers are taking advantage of homebuyers – just days before they close – through a sophisticated email phishing scheme. Posing as your real estate or settlement agent, scammers send an email with last-minute changes for wiring or electronically transferring your down payment and closing costs. If they're successful, it can be very difficult to get your money back – and in many cases, it could cost a homebuyer their life savings and new home.
Get Scam Smart: Take a few preventative steps to protect yourself and your money. When scheduling your closing, identify two trusted representatives — including your real estate and title agents — who can safely confirm the details of your closing. Use the Mortgage Closing Checklist (page 3) to record their names and primary contact information so you have it accessible if this phishing scam happens to you.
Review your Closing Disclosure and other closing documents
Once you're in the final stages and just days away from closing on your new home, it's time to review your documents. By law, you're required to receive a Closing Disclosure from your lender or closing agent at least three business days before you're scheduled to sign your paperwork. It's during this window that you'll want to ensure the costs and terms are correct, so give yourself time to thoroughly review your documents and to get all of your questions answered before you sign.

Closing Disclosure
The Closing Disclosure is a standard five-page form that lists all of the final terms and costs of the mortgage loan you're about to close on, including:
Loan amount
Interest rate
Monthly payments
Closing costs
Other costs and taxes 
To review your Closing Disclosure, compare your loan terms and costs with your most recent Loan Estimate. It's possible that some of your costs may have changed by small amounts, but if you have any questions or see an error, make sure to address it immediately with your lender. Use our interactive Closing Disclosure form for tips and definitions.
Additional closing documents
There are several other documents you'll sign at your closing. When you receive your Closing Disclosure, ask your lender to also provide these documents: 
Promissory Note – A legal document in which you agree to repay your mortgage.
Mortgage/Security Instrument – This gives your lender the right to take your property by foreclosure if you fail to pay your mortgage according to the terms you've agreed to. 
Initial Escrow Disclosure – A form that provides specific charges you will pay into escrow as part of your mortgage agreement. 
Right to Cancel – If you're refinancing, you have a right to cancel your loan within three business days. That's not the case, though, for a mortgage loan for a new home. 
Tip: If you're unable to get access to these additional closing documents ahead of your signing, take a list of questions with you. Most importantly, you'll want to review these documents to make sure your personal information is correct and that all of the key numbers and amounts match across all of your documents. 
Closing on your new home
Your closing day has finally arrived! Working your way through the above steps can help you to be more prepared and confident going into your closing. Here are a few things to keep in mind for the day of and the days that follow.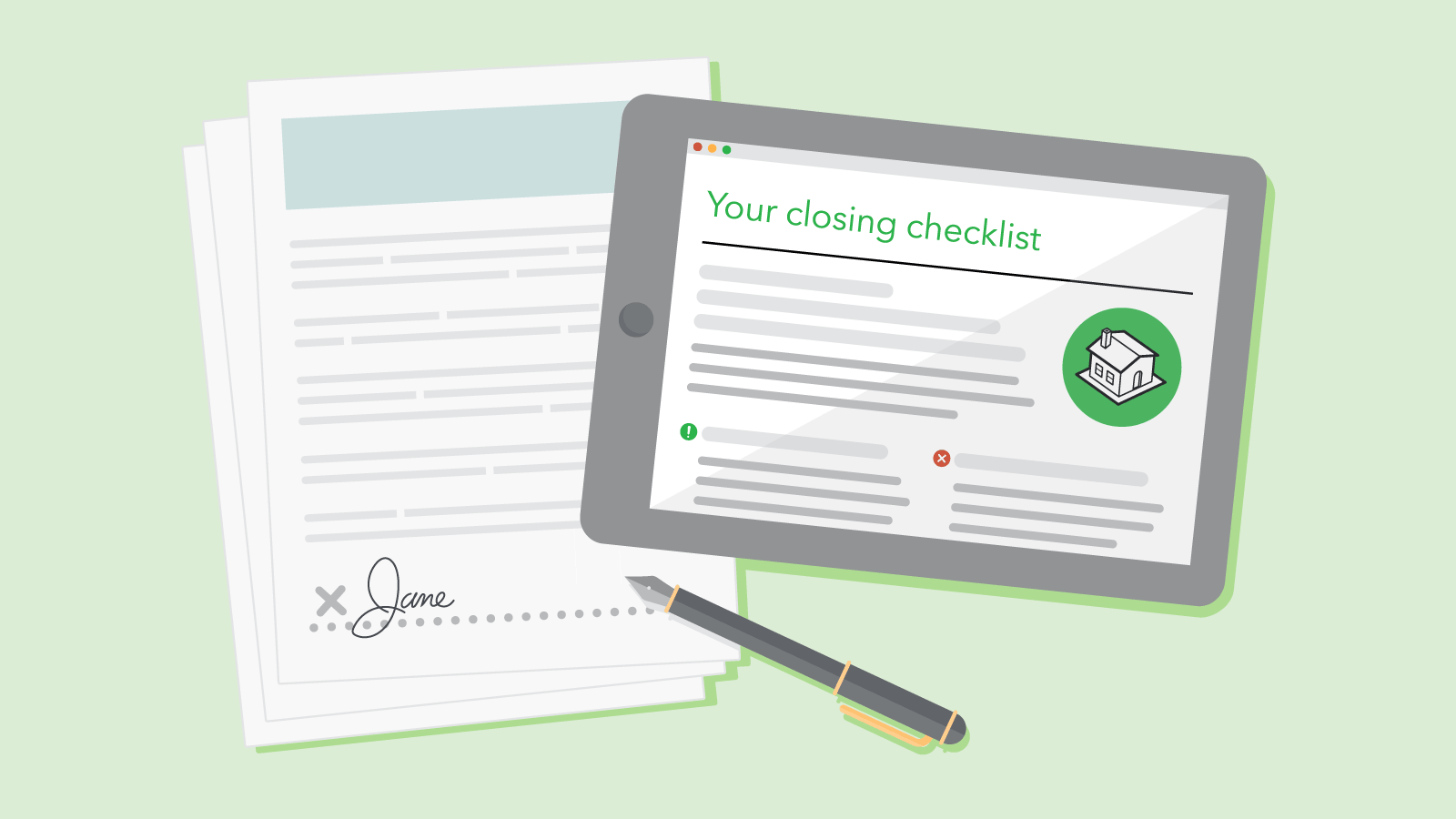 Your Mortgage Closing Checklist provides a list of important things to bring with you on the day of, including payment for your closing funds or proof of your wire transfer, your ID, and the Closing Disclosure to use as reference. You'd also want to bring your co-signer or co-borrower, if you have one, as well as a trusted friend, advisor, or lawyer, if you want an advocate with you.
You may also have questions on last-minute logistics for how or where you'll send payments. Make sure you get clarity on these key questions:

How will you pay for your property taxes and homeowner's insurance? Will the payments be part of your monthly mortgage payment, or will you pay for them separately?
Where will you send your monthly payments?
How do you pay Homeowners' Association dues (if applicable)?
Who can you contact if you have questions after your closing?
Immediately following your closing, save all of your final loan documents in a safe place – make sure you have your Closing Disclosure, Promissory Note, Mortgage, and Deed.
Maintaining your mortgage
Set yourself up for success as a new homeowner by understanding the ins and outs of your mortgage. Staying on top of your payments is important for your overall financial well-being, so we've developed a list of commonly asked questions and key terms that may be helpful, along with additional resources if you experience financial hardship or if you're having a hard time making your payments.
Being a homeowner is a significant life event. By learning what to expect and making informed decisions along the way, you'll be prepared to both tackle your closing and homeownership with confidence.