Managing your finances
If you are facing financial difficulties as a result of the pandemic, we have resources to protect and manage your finances.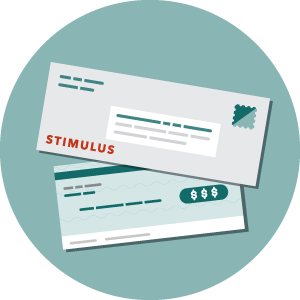 Stimulus checks and payments
As a result of the CARES Act, enacted in March 2020, the majority of Americans received some financial relief through Economic Impact Payments, which are issued by the Internal Revenue Service.
What to do if you're struggling to pay bills
There are ways to get help if you are struggling to pay your bills due to the financial impact of COVID-19. But if you can still pay your bills, you will likely be better off staying on track.
Options when you can't make payments
If you have trouble paying your bills, loans, or paying on time, there may be a number of options to help, especially if you reach out early to your lenders or creditors.
Tools to help when you can't pay your bills
We also offer a variety of tools including some designed to help you:
Before you withdraw money from other sources
If you're out of work and need income, find out what you should consider before withdrawing from your retirement savings or using home equity to cover expenses.
What to do if you lose your income
In March 2021, Congress passed, and the President signed, legislation providing an additional $300 weekly federal enhancement to all workers entitled to unemployment benefits. The supplement begins after March 14, 2021and ends on September 6, 2021. The legislation also extends the Pandemic Unemployment Assistance program which provides unemployment assistance to the self-employed and gig workers. Contact your state's unemployment office or program for information or to apply for benefits.
You can look to your state's unemployment insurance office or program to identify current options for benefits.
By Executive Order on August 8, 2020, the Federal Emergency Management Agency (FEMA) was authorized to award grants to states and territories to administer Lost Wage Assistance (LWA) as a supplemental unemployment payment. These supplemental payments from FEMA are in addition to unemployment insurance benefit paid by your state and will also be administered through your state and not FEMA. You can check here to see if your state has been approved to provide this assistance. Check with your state's unemployment office or program to see how to apply for these supplemental payments.
Direct deposit options for unemployment benefits
Overview of pandemic unemployment benefits, options for how to receive money, value of using direct deposit to receive benefits, how to sign up for direct deposit, info on possible scams, and other tools to help manage money.
How to take control of your finances
Deal with debt
There are a number of steps that you can take to help manage debt in the face of the coronavirus pandemic. You can look to your state's unemployment policies to identify current options for benefits. Your state's public health office may also have information.
Protect your credit
Your credit reports and scores play an important role in your future financial opportunities. See steps to manage and protect your credit during the COVID-19 (coronavirus) pandemic.
Explore online banking tips
If you've been on the fence about doing your banking online or through a mobile app, now is a good time to get started as financial institutions change their branch hours during the COVID-19 pandemic.
Other federal resources to help you protect your finances