You have the right to be treated fairly in the financial marketplace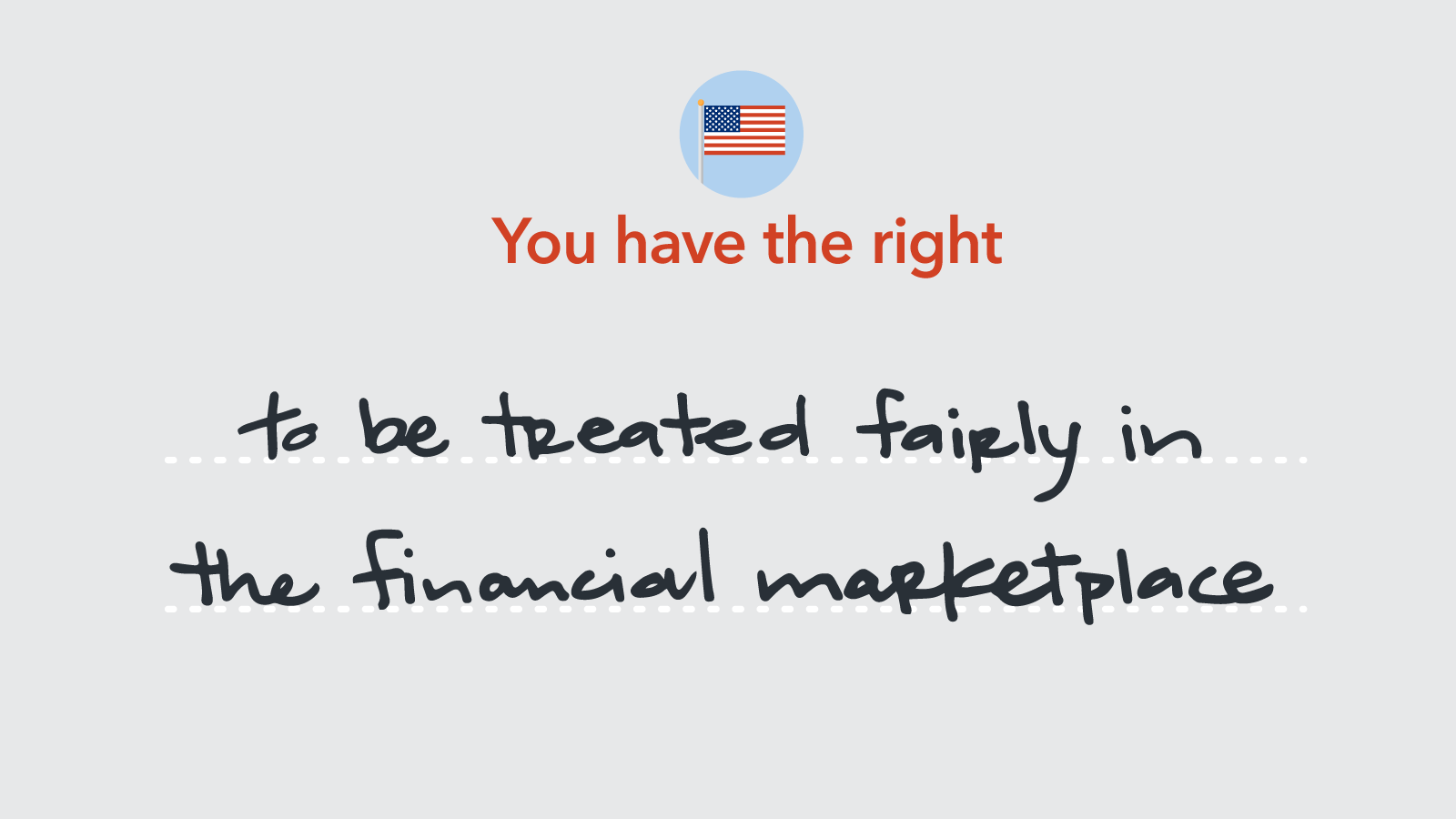 To buy a home, take out a credit card, or purchase a car, we rely on banks and other lenders to fairly assess our creditworthiness in order to loan us money. If you are denied credit on the basis of race or color, that's wrong. If your credit account is closed on the basis of national origin, that's wrong, too.
In fact, it is illegal for a creditor to discriminate against you in any aspect of a credit transaction based on race, color, religion, national origin, sex, marital status, age, or if you receive income from a public assistance program or exercise in good faith your rights under certain consumer protection laws. Examples of illegal discrimination include:
Denying you credit because of your race  
Discouraging you from applying for credit because of your marital status
Offering you credit on terms that are less favorable, like a higher interest rate, than terms offered to someone with similar qualifications because of your national origin
Closing your account because of your sex
Our Office of Fair Lending and Equal Opportunity is committed to ensuring access to credit and finding and eliminating practices of discriminatory lending. Part of that mission is making sure you know you have the right to a fair financial marketplace.
Stopping the harm
We are here to help you protect your rights. One of the ways we do that is by taking legal action against lenders who have discriminatory practices.
In 2015, we worked with the U.S. Department of Justice to take action against Hudson City Savings Bank, which discouraged potential borrowers in majority-Black-and-Hispanic neighborhoods in New Jersey, New York, Connecticut, and Pennsylvania from applying for credit from 2009 to 2013. In the resulting settlement, the bank agreed to provide over $27 million in mortgage subsidies and outreach programs during the term of the settlement in the coming years, and pay a $5.5 million penalty.  This was the largest redlining settlement in history, as measured by direct subsidies.
We also took action against indirect auto lenders like Fifth Third Bank and American Honda Finance Corporation in 2015. Fifth Third and Honda allowed dealers the choice to mark up the rates on auto loans as much as 2.5 percent and 2.25 percent, respectively, which led to minority borrowers paying more. Combined, these indirect auto lenders will pay $42 million to consumers they harmed.  Under the terms of the settlements, both lenders are required to change their pricing and compensation systems to substantially reduce or eliminate dealer discretion and minimize the risks of discrimination.
Preventing the harm
Another way we protect your rights is by helping institutions prevent harm in the first place. We do that by reviewing fair lending practices and policies of lending institutions. In 2015 we examined and reviewed numerous banks and other financial institutions for their compliance with fair lending laws. We also worked with our government partners to promote consistent, efficient, and effective enforcement of federal fair lending laws.
You can read more about the work we did in 2015 in our fourth Fair Lending report.
Protect yourself
If you believe a lender has discriminated against you or if you encounter other problems with a mortgage, auto loan, credit card, or other credit products, we want to hear about it. You can submit a complaint online or call (855) 411-2372.
You can visit our website to learn more about the warning signs of discrimination and what you can do to protect yourself.