Help for renters
Federal, state, and local governments are offering help with housing expenses and avoiding eviction. Find out what this means for you, and what you can do.
Take action to avoid eviction
You need to take action to protect yourself from eviction. These protections aren't automatic. Keep reading to find out how.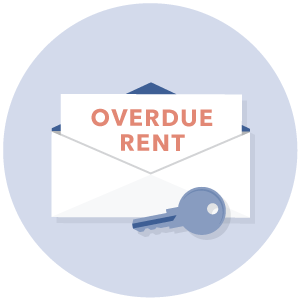 Sign the CDC Declaration and send it to your landlord
You may have the right to stay in your home. The Centers for Disease Control and Prevention (CDC) halted most evictions to prevent the spread of coronavirus. But, you must take action to use this right.
Find out if your state or local government is stopping evictions
Some state and local governments have temporarily stopped some evictions to help prevent the spread of the coronavirus.
Visit Eviction Lab, a nonprofit organization, to learn about state or local eviction protections
Find other eviction protections
In your area, or in your situation, there could be other ways to make sure you can stay in your rental home.
Ask your landlord if they are getting mortgage help 
If your landlord is getting mortgage forbearance relief, you may be protected from eviction.
Find out if you might have this protection
Active duty servicemembers, you may have more rights 
The Servicemember Civil Relief Act (SCRA) gives most active duty servicemembers certain eviction protections, and requires landlords to get a court order before evicting a service member.
Contact a military legal assistance attorney to find out if SCRA eviction protections apply to you
See if the CARES Act still protects you 
Most CARES Act protections have expired. But if your landlord is trying to collect fees or evict you for unpaid rent or fees charged between March 27 and July 24, 2020, you may have some protections.
Take advantage of free housing help
If you'd like help from an expert, contact the Department of Housing and Urban Development (HUD)'s housing counseling program.
Get help paying rent and utilities
Find emergency help if you can't pay rent and utilities
You can apply for help from state and local organizations.
Money can be used to cover rent, utilities, and other housing costs incurred due to COVID-19
Payments usually go directly to landlords and utility companies
Money may be available to help with moving costs
You or your landlord may be able to apply, depending on where you live.
Get year-round help with utility bills
Contact your local Low Income Home Energy Assistance Program (LIHEAP) office to get help paying your energy bills.
Income recertification can help renters who get help from HUD
If you already get rental help from the Department of Housing and Urban Development (HUD), and your income has changed, you might qualify for lower rent. Or, you might qualify for a hardship exemption that allows you to skip one or more rent payments.
Ask for "income recertification" through your Public Housing Authority (PHA) or landlord. Do this as soon as possible. The change in rent could apply to unpaid rent.
You can certify your income by email, text, or fax. Be sure to give your PHA your original signature later. Talk to them to learn how.
---

Make a plan to catch up on your rent
Eviction protections don't erase the rent you owe. Find help with unpaid rent, then make a plan to pay back your remaining rent to avoid eviction when protections end.
Talk to a local expert. A lawyer or housing counselor can help you understand your options or negotiate with your landlord. Many housing counselors provide services to renters and homeowners.
Find help with rent and utility bills. Visit this rental assistance directory from the National Low Income Housing Coalition.
Figure out what you can afford to pay each month. Get clear on your budget before starting a conversation with your landlord. This way you can avoid making promises you can't keep.
Tell your landlord that you want to make a payment agreement. Don't agree to a plan you can't afford.
Options you may want to ask your landlord for:
Repayment plan. You can ask to delay payments and agree to catch up once you start earning more income. This means you may have to make bigger payments once you get back on your feet.
Rent reduction. If you can make smaller monthly payments, you can ask your landlord to lower your rent until you can afford to pay more. You can also combine this with a repayment plan.
Forgiveness. If you can't afford any rent, you can ask your landlord to forgive your rent for a short time.
Remember: you have rights as a tenant. You have the right to ask for rent reduction if your home needs repairs or has other problems, even if you are going through a financial hardship. When you and your landlord agree on a way to catch up on your rent, make sure your agreement doesn't sign away these rights.
---
Your tenant and debt collection rights
As a renter, you have local, state and federal rights during the pandemic. These may help you stay in your home.
Find out about eviction protections
Your rights under the federal Fair Debt Collection Practices Act (FDCPA)
Report a bad landlord
Stay in your home as a survivor of domestic violence
Report housing discrimination
Talk to a local expert
This can be a lot to navigate. There are local experts who can help, for free or at a low cost.
Legal help
If your landlord is threatening to evict you, or you need help understanding your rights, talk to a lawyer. You may qualify for free legal aid, based on your income.
Take advantage of free housing help