Protecting older adults from fraud and financial exploitation
Losing money or possessions to scams, fraud, and exploitation can be especially devastating to older adults, who may be not be able to earn back what they've lost.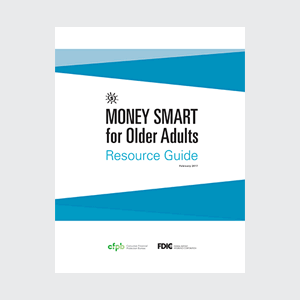 Money Smart for Older Adults
Older adults can be attractive targets for financial predators both known and unknown to them. "Money Smart for Older Adults" is designed to help older adults, family caregivers and others prevent, recognize, and report financial exploitation.
Consumer advisories: Preventing fraud
| Title | Action |
| --- | --- |
| Choosing a trusted contact person can help you protect your money | |
| Work with your bank or credit union to protect older adults from financial exploitation | |
| Planning for diminished capacity and illness | |
Resources for caregivers and service providers
| Title | Action |
| --- | --- |
| Preventing elder financial abuse: Guide for nursing homes and assisted living communities | |
| Preventing elder financial abuse: Guide for family and friends of people living in nursing homes and assisted living communities | |
| Reporting elder financial abuse: Help for family and friends of people living in nursing homes and assisted living communities | |
| Placemats with consumer protection tips to use with older adults | |
| Support your community's fight against elder financial exploitation | |
Resources for financial institutions
| Title | Actions |
| --- | --- |
| Financial institutions can help prevent elder financial exploitation with alerts to trusted contacts | |
| Age-friendly promotional toolkit for banks | |
| Age-friendly promotional toolkit for credit unions | |
| Reporting of Suspected Elder Financial Exploitation by Financial Institutions | |
| Suspicious Activity Reports on Elder Financial Exploitation  | |
| Advisory and report for financial institutions on preventing and responding to elder financial exploitation | |
| Interagency guidance on privacy laws and reporting financial abuse of older adults | |
| Memorandum on financial institution and law enforcement efforts to combat elder financial exploitation | |