Financial education for adults
We help you help the people you serve. For adult financial educators, the tools here show our latest thinking on consumer financial behavior and effective financial education practices.
Please join us for the following free CFPB FinEx Webinar:

Black Banking: past, present, and future
February 23, 2023
2:00-3:30 pm ET
This free webinar will provide information to financial practitioners on the history of Black banks in the United States. This webinar will help financial practitioners acquire a deeper understanding of the historical challenges that people of color experience when interacting with financial institutions, efforts to make progress in this space, and how financial practitioners can support people of color when they encounter inequality in banking institutions.
You'll hear about resources available from the Federal Deposit Insurance Corporation, the Office of the Comptroller of the Currency and the Consumer Financial Protection Bureau for educating consumers on their financial rights.
Advanced registration is required. You can register by clicking the link below and entering your name, email, title, and organization:
Register link:
https://cfpbgov.webex.com/weblink/register/r166cd78731803db5c190793e9602c625
Reasonable Accommodations
If you will require a reasonable accommodation to attend this event, please contact CFPB_ReasonableAccommodations@cfpb.gov 72 hours prior to the start of this event.
Privacy Act Statement 5 U.S.C. 552a(e)(3)
The information you provide to the Consumer Financial Protection Bureau (Bureau) will be used to register you for events sponsored by the Bureau and to keep you updated on our work.
The Bureau may collect personally identifiable information (PII) such as your name, email address, company, and information about any necessary accommodations. Information collected will be treated in accordance with the System of Records Notice (SORN), CFPB.013 External Contact Database, 77 FR 59386. Although the CFPB does not anticipate further disclosing the information provided, it may be disclosed as indicated in the Routine Uses described in the SORN. Direct identifying information will only be used by the CFPB to facilitate the registration process will be kept private except as required by law.
This collection of information is authorized by Public Law 111-203, Title X, sections 1011, 1012, 1021, codified at 12 U.S.C. 5491, 5492, 5511.
Tools and resources to use with the people you serve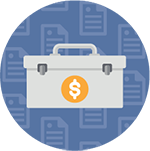 We've gathered our tools, worksheets, handouts, and audio recordings by topic. You can use these resources with the people you serve. You can also download the inventory of materials that are available.
Resources for financial educators
Financial well-being
Following a rigorous research effort, the CFPB defined financial well-being and developed and tested a scale to measure it. Then, we conducted a national survey to measure financial well-being in America. Explore the resources below to find out more.
Five principles of effective financial education
The five principles build on insights about how people make financial decisions, marshalled from many fields of study, and on what we have learned about consumers' own experiences in the financial marketplace.
Money motivations
Bridging the gap between a person's intentions and their behavior can be a challenge for financial education practitioners. Our tools can help you understand and harness emotions and relationships that influence money decisions.
Webinar training
View our growing library of webinars or read the transcripts. Each webinar is added to the archive a few weeks after its presentation date.