Financial education for adults
We help you help the people you serve. For adult financial educators, the tools here show our latest thinking on consumer financial behavior and effective financial education practices.
Please join us for the following free CFPB FinEx Webinar:

Join us!
Thursday, June 29, 2023
2:00 to 3:30 pm ET
The free webinar explains red flags to watch for when communicating via email, text, voice, social media, and postal mail. The focus is on scams older adults are experiencing, but all ages can benefit from the information.
Hear from the CFPB and guest speakers from the Federal Trade Commission, discussing what to look for, how to respond, and how to recover if you or someone you know experiences a scam or identity theft.
Reasonable accommodations
Require an accommodation to attend?
Contact CFPB_ReasonableAccommodations@cfpb.gov 72 hours before the event.
Tools and resources to use with the people you serve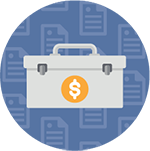 We've gathered our tools, worksheets, handouts, and audio recordings by topic. You can use these resources with the people you serve. You can also download the inventory of materials that are available.
Resources for financial educators
Financial well-being
Following a rigorous research effort, the CFPB defined financial well-being and developed and tested a scale to measure it. Then, we conducted a national survey to measure financial well-being in America. Explore the resources below to find out more.
Five principles of effective financial education
The five principles build on insights about how people make financial decisions, marshalled from many fields of study, and on what we have learned about consumers' own experiences in the financial marketplace.
Money motivations
Bridging the gap between a person's intentions and their behavior can be a challenge for financial education practitioners. Our tools can help you understand and harness emotions and relationships that influence money decisions.
Webinar training
View our growing library of webinars or read the transcripts. Each webinar is added to the archive a few weeks after its presentation date.