What is a credit score?
A credit score predicts how likely you are to pay back a loan on time. A scoring model uses information from your credit report to create a credit score.
Companies use a mathematical formula – called a scoring model – to create your credit score from the information in your credit report.
Some factors that make up a typical credit score include:
Your bill-paying history
Your current unpaid debt
The number and type of loan accounts you have
How long you have had your loan accounts open
How much of your available credit you are using
New applications for credit
Whether you have had a debt sent to collection, a foreclosure, or a bankruptcy, and how long ago
Companies use credit scores to make decisions such as whether to offer you a mortgage, credit card, auto loan, or other credit product. They are also used to determine the interest rate you receive on a loan or credit card, and the credit limit.
Keep in mind there is no "one" credit score. It is important to know that you do not have just "one" credit score and there are many credit scores available to you as well as to lenders. Any credit score depends on the data used to calculate it, and may differ depending on the scoring model, the source of your credit history, the type of loan product, and even the day when it was calculated.
Usually a higher score makes it easier to qualify for a loan and may result in a better interest rate. Most credit scores range from 300-850.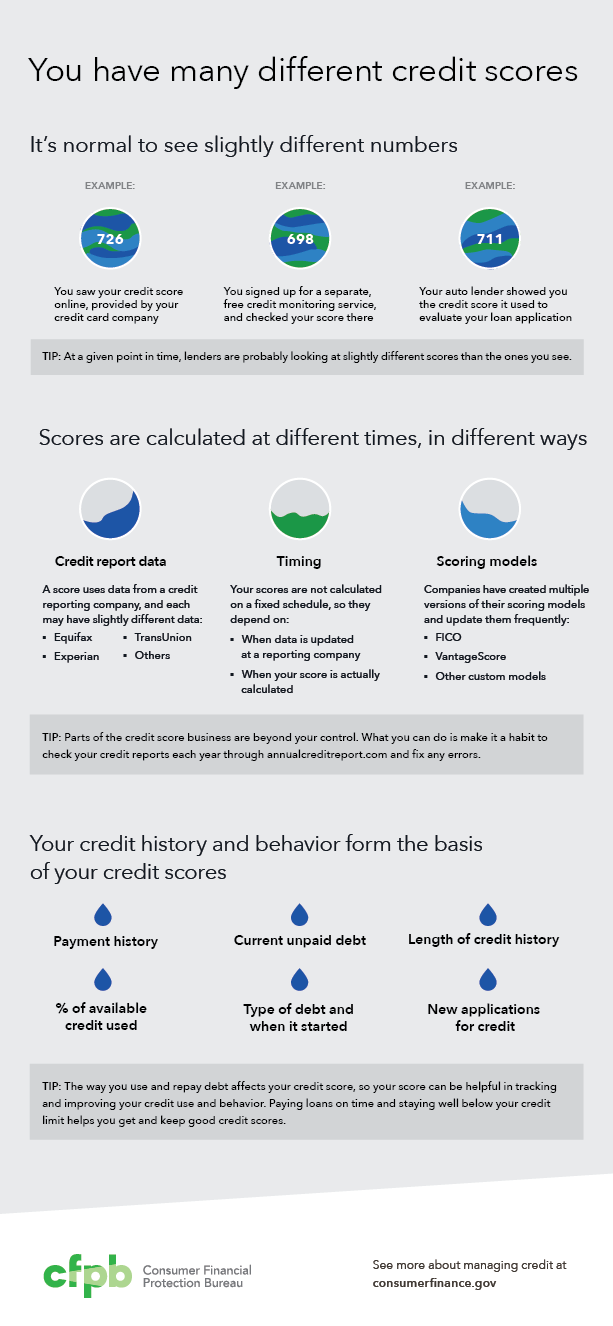 Still have questions about credit reports and scores?
Find resources to help you better understand them, learn how to correct errors, and improve your credit record over time.