The COVID-19 global pandemic laid bare the inequities in health care and wealth creation that have long existed in this country, much of it created by systemic and institutional racism and discrimination. We are using our tools and authority ─ through rulemaking, supervision, enforcement, research, and consumer education ─ to protect and fight for fairness for all consumers in financial markets.
Our nation has a history of racial and economic inequity
Watch: Fighting for equity in the financial marketplace
"As Acting Director, my top priorities for this agency are to take bold and swift action to address issues of pervasive racial injustice and the long-term economic impacts of the COVID-19 pandemic on consumers." – David Uejio, Acting Director
For underserved communities, the pandemic has worsened housing instability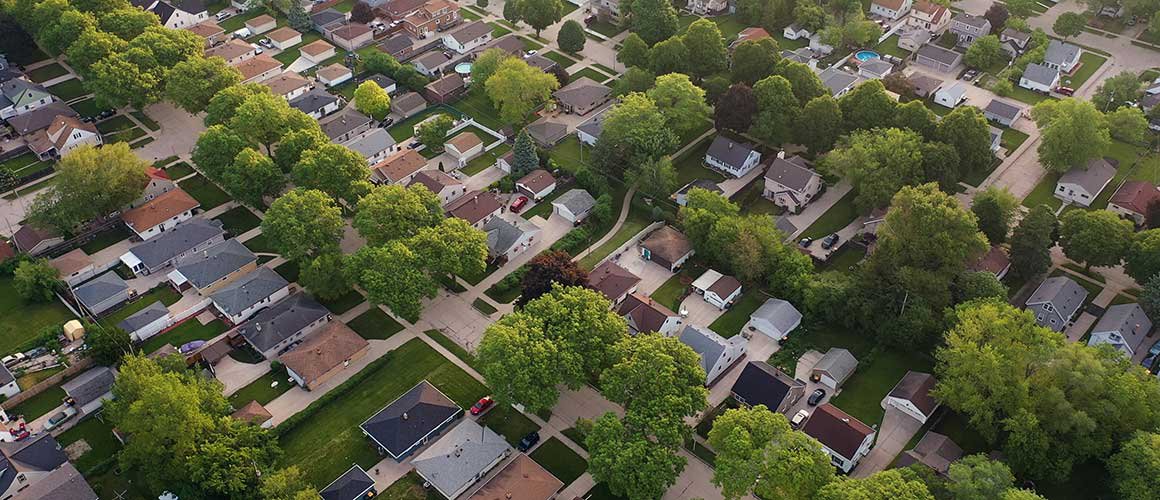 In 2020, those who had fallen behind at least three months on their mortgage increased 250 percent to over 2 million households and is now at a level not seen since the height of the Great Recession in 2010.
In our May 2021 report , we found Black and Hispanic borrowers were disproportionately likely to be in forbearance or delinquency compared to white borrowers.
Our August 2021 report found that some populations of borrowers may have difficulty establishing live contact and obtaining assistance from some servicers.

Share of households behind on housing payments by race/ethnicity and tenure, December 2020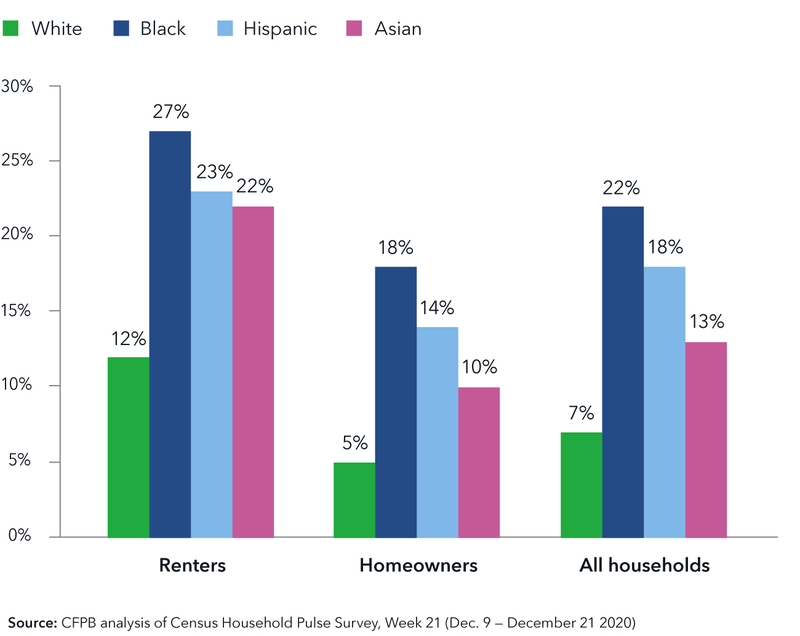 Unemployment rate by race and ethnicity,
January 2020 — December 2020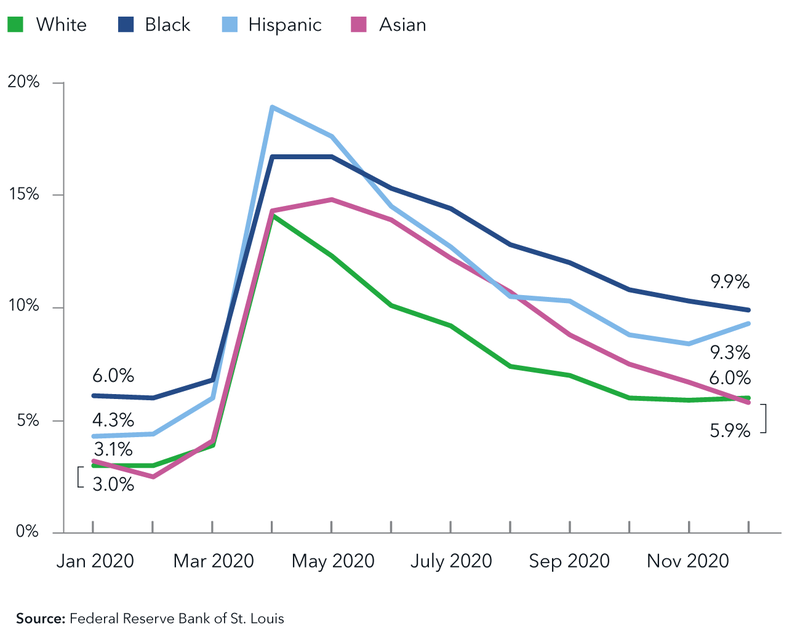 Share of renters that report it is likely they will be evicted, December 2020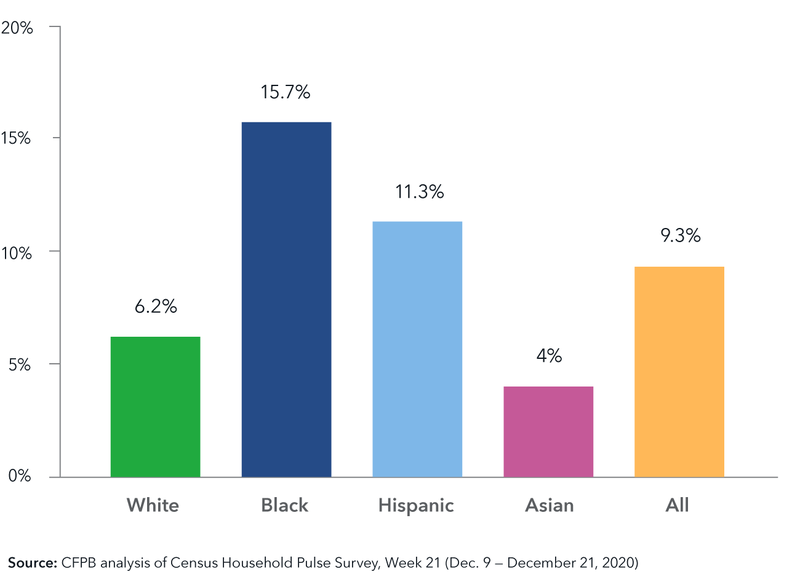 We are listening and taking action
While many are beginning to return to some sort of normal, many are still struggling to stay in their homes. And to them, our message is clear: "We have your back."
View our Coronavirus consumer resources
View our recent rulemaking activities
Watch our recent events
June 15, 2021
Virtual hearing on home appraisal bias
Featuring remarks from Acting Director Dave Uejio and civil rights organizations, housing policy experts, and other federal agencies.
We are fighting for fairness for economically vulnerable consumers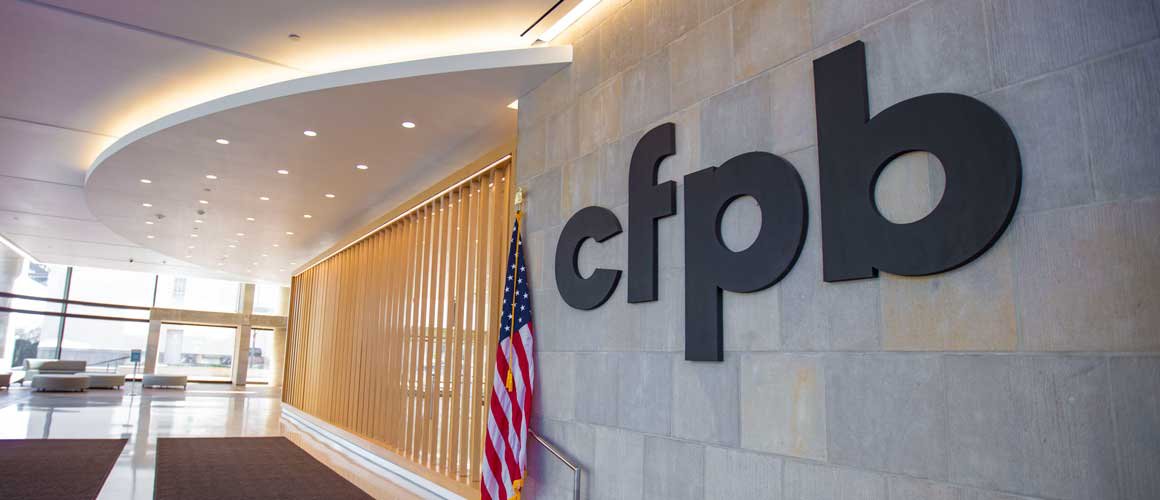 Fair lending
We were built on the understanding that when the rules are fair, we have a chance to build stronger families and a stronger nation. A key component to this has been the CFPB's fair lending work to ensure the fair, equitable, and nondiscriminatory access to credit for both individuals and their communities.
Read the 2020 Fair Lending Report to Congress
Home Mortgage Disclosure Act (HMDA)
Our work on HMDA ensures that many financial institutions maintain, report, and publicly disclose information about mortgage loans to determine if they are serving the housing needs of their communities, and to identify possible discriminatory lending patterns. Read more about HMDA
Equal Credit Opportunity Act (ECOA)
We help enforce ECOA, a federal law that makes it illegal for a creditor to discriminate against you, in any aspect of a credit transaction, because of sex (including sexual orientation and gender identity), age (provided the applicant is old enough to enter a contract), race, color, national origin, religion, marital status, whether you have exercised certain rights, and whether all or part of your income is from any public assistance program. Read more about ECOA
For more information on credit discrimination, see our brochures for consumers (English | Español | 中文 | Tiếng Việt | 한국어 | Tagalog | Pусский | اَلْعَرَبِيَّةُ | Kreyòl Ayisyen ) and for those who work with consumers (English | Español | 中文 | Tiếng Việt | 한국어 | Tagalog | Pусский | اَلْعَرَبِيَّةُ | Kreyòl Ayisyen ).
Fair lending and small businesses
Section 1071 of Dodd-Frank Act amended ECOA to require financial institutions to compile, maintain, and submit to the CFPB certain data on applications for credit for minority-owned, women-owned, and small businesses. Read more about section 1071. We are also looking for stories from small business owners.
Including minority-owned and women-owned businesses in our work
We're dedicated to increasing opportunities for minority- and women-owned businesses (MWOBs) to work with the CFPB. We continuously improve our engagement with MWOBs by offering information and technical assistance, and by ensuring that our contracting processes are transparent, fair, and equitable.
Find opportunities to do business with us
We monitor progress and share best practices with regulated entities
A diverse and inclusive workforce helps financial service providers to connect with an increasingly diverse customer base. We assess the diversity and inclusion policies and practices of entities we regulate in order to develop and share strategic advice, best practices, and trends.
Submit a voluntary self-assessment to help improve the field
Equity Action Plan
We are committed to integrating racial and economic equity into the core mission work of the Bureau. The CFPB Equity Action Plan identifies specific actions CFPB will take to break down barriers to equity. It also includes performance and accountability measures to ensure our goals are met.
We believe everyone deserves equal access to economic opportunity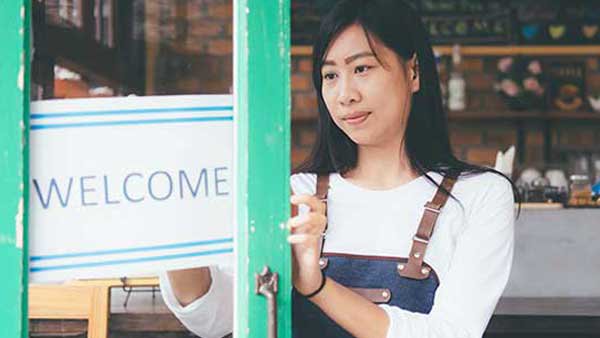 We're committed to diversity, equity, and inclusion
We know that diversity and inclusion are just as important in the make-up of our own staff. The Diversity and Inclusion Council of Employees (DICE) consists of employees from across CFPB who represent all levels and types of jobs. DICE provides recommendations on inclusive programs and initiatives, offers feedback on workplace inclusion and our initiatives and policies, and works on projects and programs that support our diversity and inclusion goals.
We also engage with staff through Employee Resource Groups which serve as conduits for raising cultural awareness, providing staff with a way to come together around common interests and issues, advancing diversity and inclusion at the Bureau, and providing input and insights towards the mission work.
Read more about our work diversity groups
Read the 2021 Office of Minority and Women Inclusion (OMWI) annual report to Congress

We take racial and economic equity personally. Our workforce is made up of people who have first-hand knowledge of the issues we seek to eliminate.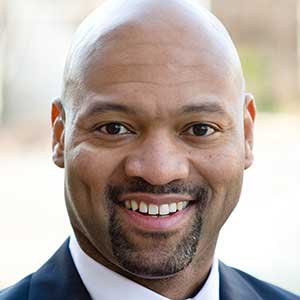 "I was a college educated first time buyer when I purchased my first home. I had a basic understanding of real estate transactions and believed that I conducted my due diligence of researching the property and mortgage process. I even got pre-approved for my mortgage, but still fell prey to predatory lending practices and fair lending discrimination.
"It was not until I was in my second year in law school, working at the Fair Housing Legal Clinic, that I realized I was a victim of the discriminatory practice of reverse redlining and predatory lending. Because of this, I realized that fair housing and consumer protection is my calling."
– Charles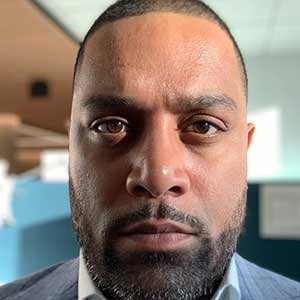 "Diversity, equity and inclusion were instilled in me from a young age. My parents emigrated to the United States from southern India, by way of Ireland, in 1973 and faced experiences that challenged them as they sought to put down new roots and raise a family. To almost everyone I meet, they do not believe I am Indian based off my appearance. Due to this inaccurate assumption, I have had to self-educate how to handle possibly problematic situations, including dealing with law enforcement. The culture and knowledge-of-self my family here and in India imbued me with is what sparked my career in consumer protection, fair lending and fair housing. I am passionate about helping the underserved and those that do not have a voice in financial markets. This is why I wanted to come work at the CFPB."
– George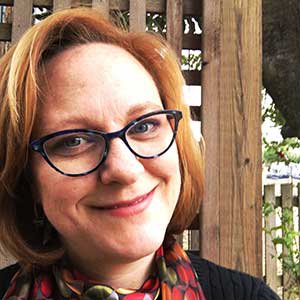 "As a teen with a single mom and living below the poverty line, my mom totaled her car with no insurance to replace it and no other way to get to work. After seeing bias in the salesman's condescending behavior and hearing his 'don't worry your pretty little head about that' comments, I acted beyond my teen years to negotiate the car sale and loan to protect our limited resources."
– Julia