Start saving today with our new savings booklet and email boot camp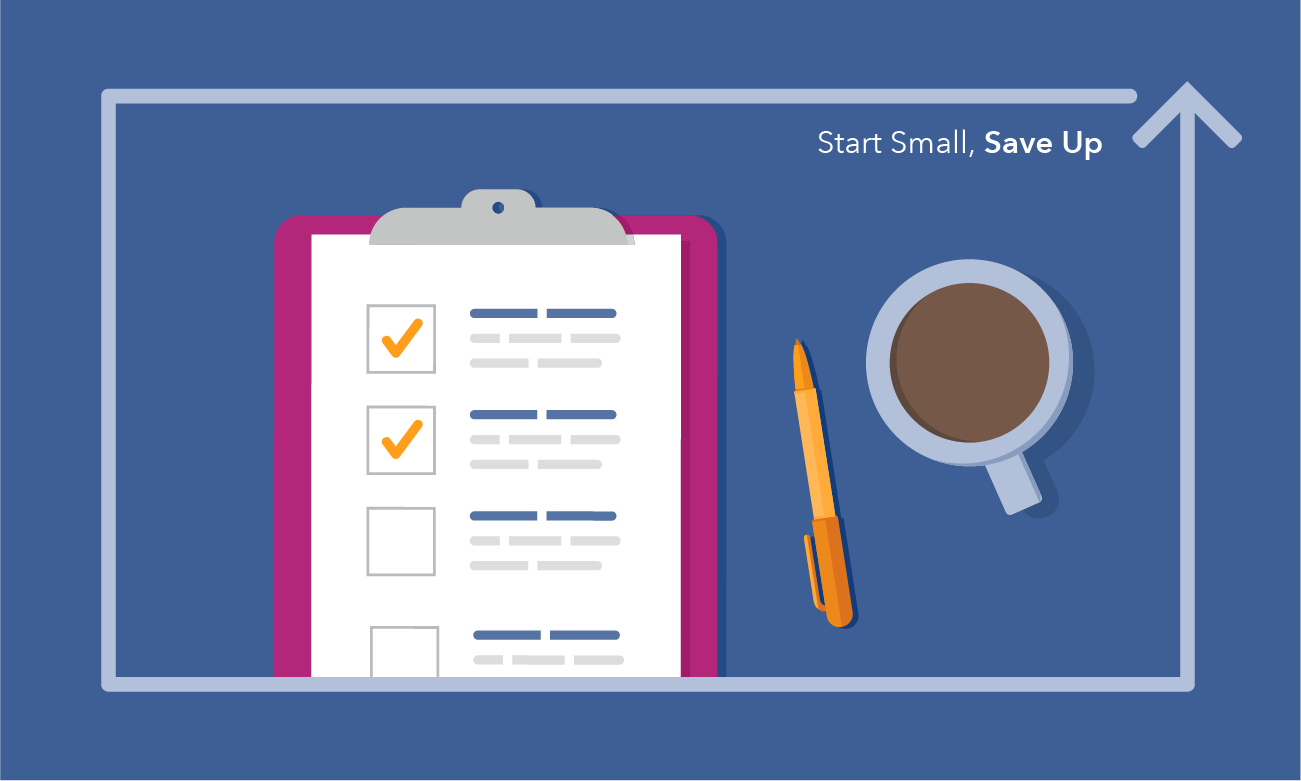 Today we released "Building your savings? Start with small goals"—the fourth and newest addition to the Your Money, Your Goals suite of financial empowerment tools. It provides eight tools to help you plan for short-term and long-term goals.
The tools help answer the following questions:
What could saving make possible for me?
Where can I put my savings?
How can I plan to save?
How can I save more in my current situation?
How much can I save each month?
How can I manage cash flow better?
How can I save when I get a tax refund?
How can I prepare for unexpected expenses?
The booklet is meant to be used in conjunction with one-on-one financial counseling or coaching received through a case manager or other service provider, but it can also be used by individuals on their own as they think about how to start and keep saving. 
This past February, we launched our Start Small, Save Up initiative with the goal of increasing people's financial well-being by helping more people save for emergencies and realize their personal savings goals. 
The initiative and the resources created for it, like this booklet, are grounded in the need for people to build savings to weather unexpected expenses. According to the Federal Reserve Board's 2019 Survey of Household Economics and Decision-making (SHED), 39 percent of American adults would not cover a $400 emergency expense out of their own liquid savings. Twenty-seven percent of respondents would cover it by selling something or borrowing money, and 12 percent could not cover the $400 expense at all.
So whether you want to put money aside for unexpected expenses or make a plan to save for your future goals, we have resources that can help.
Order free savings booklets and start saving today. 

How to start saving
Build a savings plan
Growing your savings requires a plan. Our create a savings plan worksheet can help you create a plan by analyzing your expenses and finding areas to save. You may discover ways to cut costs by avoiding fees, reducing bills, and changing habits. 
Make savings automatic
One of the easiest ways to build savings is to set up an automatic deposit from your paycheck. You can ask your employer to split your paycheck into a checking and savings account via direct deposits. Many banks and credit unions make it easy for you to automatically transfer funds into various accounts on a regular basis. Emergency savings should ideally be placed in an easily accessible account at a bank or credit union that will not charge you taxes, maintenance, or early withdrawal fees. If you do not have a bank account, use our checklist for opening a new checking or savings account . 
Better manage your cash flow
Even when you've done everything you can to increase sources of income or cut spending to increase your savings, there might be a few more things you can do. If you feel like you're juggling your bill due dates every month, you're not alone. Bill payment due dates often don't align with your paychecks. Often those living paycheck to paycheck have a cash flow problem. 
Did you know you can request to change your bill due dates? Use our request a change in your bill due date worksheet to help you evaluate your bill schedule and see whether changing the dates your bills are due could help you better manage your day-to-day finances. You may also be able to negotiate splitting a monthly payment into two smaller payments. For example, if a $700 rent payment is due the first of the month, see if you can make a $350 payment on the 1st and the 15th. 

Save at tax time
Everyone has unexpected expenses and emergencies—a car repair, the need to travel to help a sick family member, paying bills when you've had a cutback in hours or even lost your job. For many Americans, their tax refund represents the largest lump sum of money they will receive all year. To make it possible for people to save automatically, the IRS offers tax filers the opportunity to deposit their refund in up to three separate accounts directly. One of those accounts could be a savings account. Consider using all or part of your next tax refund to establish or increase your emergency savings.  
Having savings of any kind can help you become more financially stable, and maintaining some liquid savings over time can improve your financial well-being.  
Financial well-being is when you:

Have control over day-to-day, month-to-month finances;
Have the capacity to absorb a financial shock;
Are on track to meet your financial goals; and
Have the financial freedom to make the choices that allow you to enjoy life.
One of the best ways to begin to achieve your financial goals is to start small. Our new savings booklet will set you up for success by providing information and tools to begin or continue your savings journey.  
Savings email boot camp
In addition to our new booklet, we are launching the CFPB Savings Boot Camp. We'll send you simple steps over a few weeks to start reaching your goals. Sign up for our CFPB Savings Boot Camp today and make a commitment to save!
Sign up for the latest financial tips and information right to your inbox.