Meet the Money Monsters!
The Money Monsters are a group of creatures who are new to our universe. That means they need to learn about many important things like school, friendship, and financial literacy.
Financial literacy is when you have the knowledge and skills to make money choices that are right for you. These Money Monster stories introduce you to ideas, habits, and activities that you'll need as you grow up and start to manage your own money.

Money Monsters parent reading guide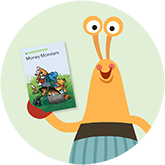 The Money Monsters reading guide can help you bring money topics to life through storytime. Use the reading guide to review the key ideas in the Money Monsters books, ask questions during reading time, and find activities related to the money topics.
Money Monsters story books
Money Monsters chapter book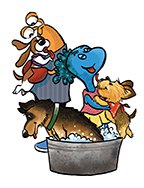 Money Monsters Start Their Own Business
In this chapter book, the Money Monsters discover that being an entrepreneur can be fun, but it isn't always easy.
NOTE: You will need a book reader app to open the ePub files.