The significant impact of student debt on communities of color
Rising student debt is one of the more painful aftershocks of the Great Recession. Millions of Americans lost their jobs and homes, while others lost much of their household wealth. This decrease in household wealth has continued to put a strain on the ways families pay for higher education expenses, often shifting the burden of paying for college from the family to the student. Every day, we hear from hundreds of borrowers about the impact that student loan debt has on their daily lives.
We know that this debt burden continues to acutely affect students of color. The Great Recession hit African-American and Latino communities the hardest, with many families seeing their net worth nearly cut in half. This, combined with the rising cost of tuition and fees at public colleges and universities, and the large numbers of students of color enrolled in for-profit schools, has made a big impact on the amount of debt that these students and their families have taken on to finance their higher education. Recent research also further underscores the disproportionate impact of student debt on communities of color.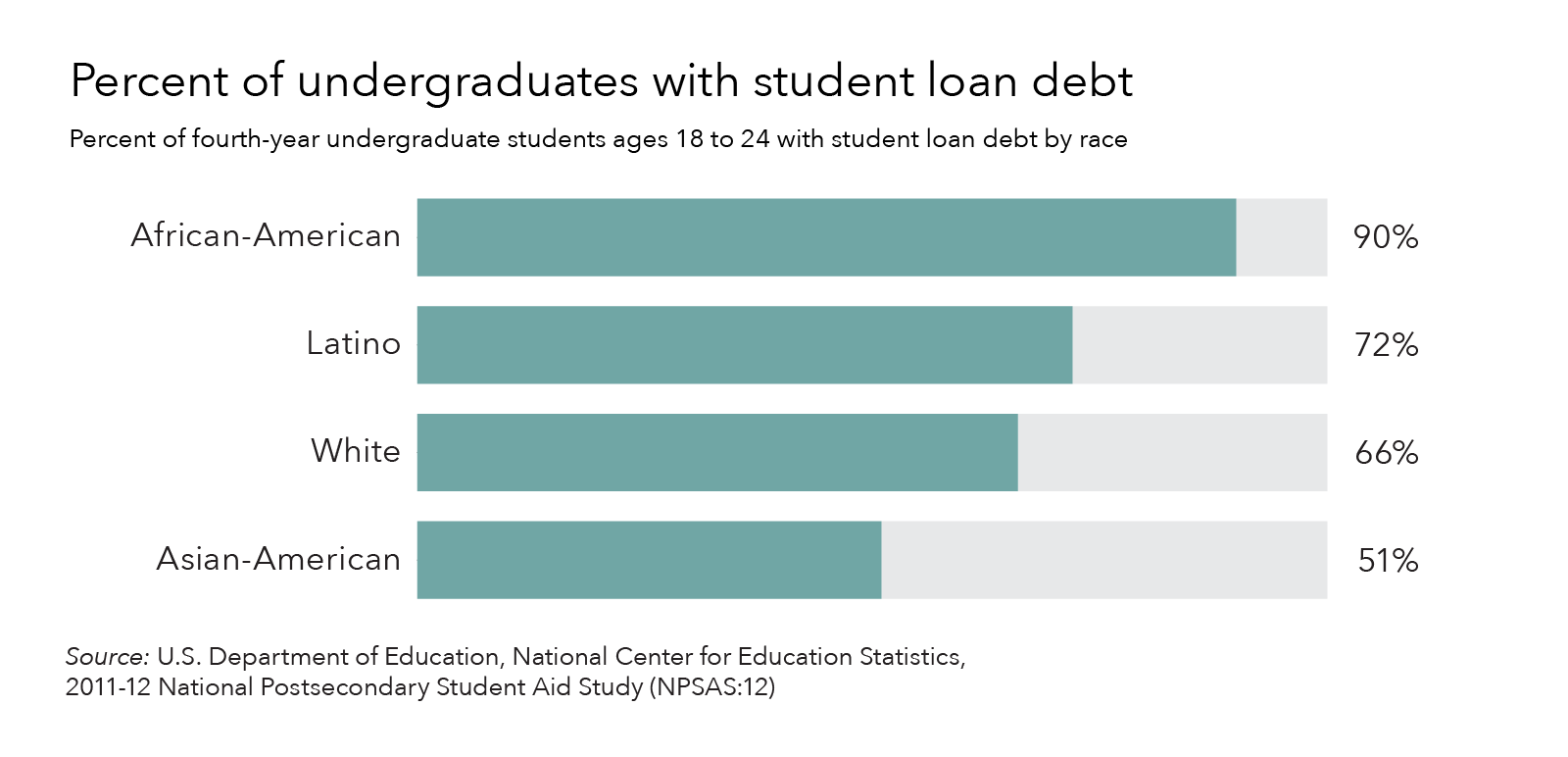 Federal government data shows that over 90 percent of African-American and 72 percent of Latino students leave college with student loan debt, compared to 66 percent of white students and 51 percent of Asian-American students.  While Asian-American students may be less likely to borrow federal student loans, separate research has shown that Asian-American students who need to borrow more than $30,000 may be more likely to rely on private student loans to finance their higher education—loans that offer fewer consumer protections for borrowers.
With this in mind, we continually engage with and hear from a wide range of stakeholders, including researchers, consumer advocates, and the civil rights and labor communities to discuss the impact of student loan debt. Here are some things we have heard:
Student loan debt can trigger a financial domino effect that may prevent economic mobility. Over the years, we've explained how student loans can have spillover effects on the lives of young consumers. Recent reports have also shed light on how student loan debt also has the ability to drive income inequality. We know that student debt can hold back borrowers—especially borrowers of color—from investing in their financial future. What we hear from stakeholders sheds further light on how debt levels are negatively impacting the lifetime wealth of communities of color.
Borrowers of color are more likely to experience delinquency or default. Despite the increased number of repayment options available to federal student loan borrowers, one-in-four borrowers are delinquent or in default on their federal student loans. This is particularly common for students who leave school before completing their degree or attend for-profit colleges. These troubling statistics raise concerns that millions of borrowers may not be getting information about repayment options or may encounter breakdowns when attempting to enroll in these plans. For borrowers of color, who are more likely to attend for-profit colleges and face unique obstacles while completing a degree, these breakdowns may be even more troubling. Some research suggests higher rates of student loan defaults and delinquencies in ZIP codes populated primarily by minorities with higher income levels.
Borrowers of color continue to face economic barriers that cause them to borrow at higher rates. African-American and Latino households were significantly impacted by the financial crisis. Even as the economy has recovered, research shows that the wealth gaps between African-American, Latino, and white households have steadily increased since the end of the Great Recession. These economic barriers continue to make it hard for these African-American and Latino families to save and pay for college without having to take on large sums of debt.
The economic barriers that communities of color face while paying for a higher education underscore the importance of our ongoing efforts to make the student loan market work better for borrowers. It also reinforces the importance of the Bureau's work over the last several years to identify risks and stamp out illegal practices in the marketplace. In 2012, we highlighted the impact that certain eligibility criteria used by private student lenders can have on students of color. More recently, we have taken aim at shoddy student loan servicing practices and student loan debt relief scams. We are committed to continuing our work to make the student loan market safe for all borrowers and ensuring that all borrowers get the help they need to manage their student debt.
We also want to hear from you—make sure to tell your story and share your experience with student loan debt.
Every federal student loan borrower has the right to a repayment plan based on their income even if they struggle to repay their loans. If you are having trouble with managing your student loan debt, visit our Repay Student Debt tool to learn more about your repayment options or check out our Ask CFPB questions on student loans. If you are having trouble with your student loans or with your servicer (the company that sends you your monthly student loan bill), you can submit a complaint.