Financial struggles in Puerto Rico bite deeper than the rest of the United States
The CFPB works to ensure fair and equal access to financial products and services, especially among those who have been historically left out of full participation in the marketplace. This includes making a concerted effort to ensure that Puerto Rico and the territories are being analyzed and served just as other regions of the United States. In a recent study, we looked at how people living in Puerto Rico use financial products and services, as well as their financial well-being.
The National Financial Capability Study from the FINRA Foundation highlights household financial information in Puerto Rico. Using the 2021 survey data, we gained important insights into the financial well-being, financial hardships, debt loads, and banking and credit needs of Puerto Rican adults and their families. Combined with our own research, the study's data provide a robust foundation to better understand the financial needs and challenges of Puerto Ricans.
Financial well-being in Puerto Rico lags behind the rest of the United States
The CFPB Financial Well-Being Scale measures one's ability to have financial security and financial freedom of choice, in the present and in the future. The average financial well-being score among adults in Puerto Rico in 2021 was 52 out of 100 – two points lower than the rest of the United States. While the share of adults with very low or low financial well-being is similar in Puerto Rico (18.2 percent) and the rest of the U.S. (18.0 percent), the share of adults with high or very high financial well-being is significantly lower in Puerto Rico (26.3 percent) compared to the rest of the U.S. (35.6 percent).
Figure 1. The share of adults with high or very high financial well-being in Puerto Rico is significantly less than that of the rest of the United States

Puerto Rican households experience a number of financial hardships:
The annual household median income in Puerto Rico was just below $22,000 in 2021.
1.4 million people in Puerto Rico are reported as living below the federal poverty line.
Almost 13 percent of Puerto Ricans report that they do not have medical insurance and almost one-in-five reports foregoing medical treatment because of cost.
Approximately 10 percent of households that occasionally overdraft their bank accounts may have to pay overdraft fees.
Twenty-two percent of households pay credit card late fees.
After decades of declines, fewer Puerto Rico-based institutions today are left to serve the entire island. Residents of Puerto Rico have fewer choices of financial products and services than do residents of the 50 states, and many lenders based in the 50 states either do not operate in Puerto Rico at all or offer only a very narrow range of loan types. People have limited options for bank accounts and loans, and that can make a challenging financial situation worse. In addition, a recent CFPB report on consumer complaints finds that 8 out of 10 complaints from Puerto Ricans were related to credit or consumer reporting agencies. The graphic below illustrates the challenges people in Puerto Rico face in accessing mainstream financial products or services.
Puerto Rico by the Numbers: Challenges to Financial Inclusion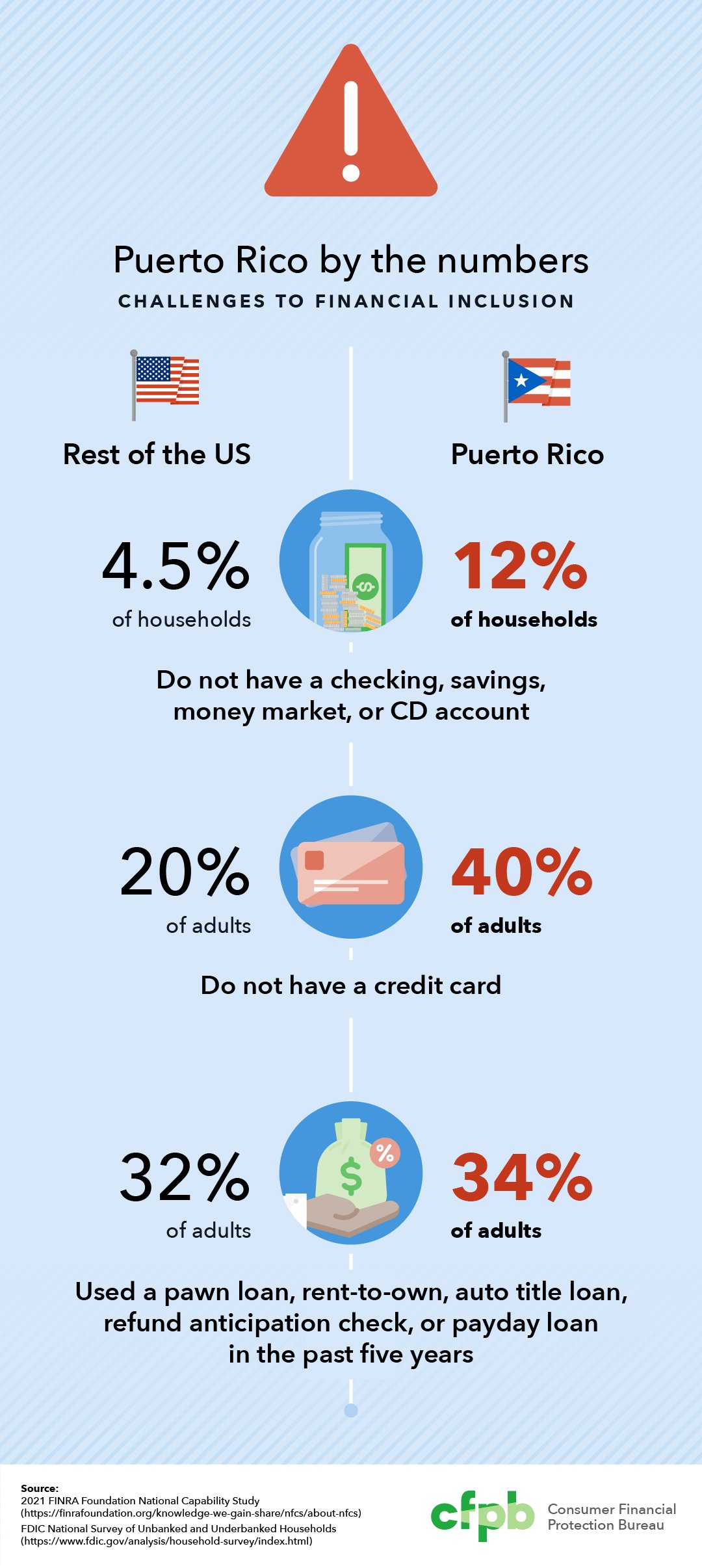 Systemic barriers and challenges limit many Puerto Ricans' access to fair and affordable financial services and products. What's more, people encounter problems because of limited ability to speak and read English (the language of most financial transactions and disclosures) and they face rapidly rising housing costs.
All these challenges impede economic mobility, making it more difficult for Puerto Ricans to buy homes, save for their children's future, start businesses, and build wealth. Barriers to financial inclusion make families vulnerable to financial shocks, leading to broad implications for Puerto Rico's economic growth, including its ability to respond to and recover from future crises. Financial institutions can play an important role in building a more inclusive financial system, including presenting opportunities for people with limited English proficiency to build their financial capabilities.
If you have an issue with a consumer financial product or service, you can submit a complaint with the CFPB online or by calling (855) 411-CFPB (2372). More than 180 languages are available by phone, including English and Spanish.