Choose the right card for your situation
Prepaid cards have different features, functions, and fees. To decide which prepaid card is right for you, learn about your choices. Compare the fees to how you will use the card.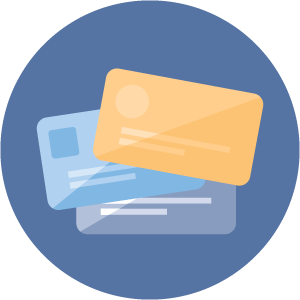 How do you plan to use your card?
Will you use the card regularly or only for some things?
Will you only make purchases, or also use the card for cash withdrawals or bill payments?
Will you have your paycheck or benefits directly deposited onto the card?

Questions to consider when choosing a card
There are different types of prepaid cards. You can make the best choice about which card is right for you when you understand key differences.
A reloadable prepaid card allows you to add more money. This type of card is sometimes called a General Purpose Reloadable Card, or GPR Card. Some cards start out as non-reloadable, but can be reloaded once you complete a registration process. Some prepaid cards are "non-reloadable," meaning you can't add more money to them.
A payroll card is a prepaid card you get from your employer that you receive your paycheck on. 
A government benefit card is a prepaid card used by a government agency to pay certain government benefits, such as unemployment insurance. 
Some college ID cards are also prepaid cards. Some colleges offer a card that you can only use to pay for things on campus (and maybe some nearby stores). Other schools offer a card that you can use at any retail location that accepts that network brand.
A gift card may look like a prepaid card, but it is different. A gift card may have a network logo that allows you to use the card widely, or it may only be usable at certain locations. While gift cards have some protections under federal law, they typically will not have the protections from the CFPB's 2019 prepaid rule. 
Sometimes you might hear a card referred to as an "open-loop" or "closed-loop" card.
An open-loop prepaid card is a card with a network logo on it. Examples of networks are Visa, MasterCard, American Express, and Discover. These cards can be used at any location that accepts that card type. Most prepaid cards are open-loop cards. GPR prepaid cards, payroll cards, and some types of government benefit cards are open-loop, as are many other kinds of prepaid cards. Even some gift cards are open-loop.
A closed-loop prepaid card is a card you can only use at certain locations. For example, a closed loop card might be good only at a specific store or group of stores, or on your public transportation system. Most closed-loop cards do not have a network logo on them. Many gift cards are closed-loop cards.
Read the information about the card carefully to understand all of the fees. The CFPB's prepaid rule requires prepaid card providers to give you information about fees before you choose a card. For cards you buy at the store, important information is included on the card as well as inside the card package. (Due to phase-in rules, it may take some time for new packaging to make it to stores, so you may not see all cards with this information immediately.) Consider how you plan to use the card and shop for the one that is best for your situation.
There are different types of fees on prepaid cards. Different prepaid cards charge different types and amounts of fees. Common fees include: 
Monthly usage

Transaction or per purchase fee
In-network/out-of-network ATM withdrawal fee
ATM balance inquiry fee
Cash reload fee
Customer service fee
Inactivity fee
Paper statement fee
Decline fee
Card-to-card transfer fee
Bill payment fee
Stop payment 
Card replacement fee
Additional card fee
Foreign transaction fee
Card cancellation fee
Not every card charges each type of fee. Some cards charge a monthly fee but not transaction fees. Other cards may skip the monthly fee but charge you transaction fees each time you use the card for certain types of transactions (such as purchases made in stores or online using the card).
Read more about types of prepaid card fees

Tip
Think about how you plan to use the card. Then look at the fees for the ways you might use the card. The card packaging will include a chart that contains certain key fees and other information about the prepaid account, and you can use that to comparison shop between cards at the store. The packaging will also have a website where you can see a form that includes all of the fees that the card charges, as well as other key information about the card.   
If you have registered your prepaid card, or if your card is a payroll card or a certain type of government benefit card, you have certain error resolution rights that protect you from unauthorized transactions under federal law. Network-branded prepaid card providers usually give some additional protections for loss or theft, but you should check your card provider's website or your cardholder agreement to find out the specifics.
Call your card issuer right away if your card or PIN is lost or stolen or if you see unauthorized charges.
A prepaid card may or may not be the right choice for you, depending on how you plan to use the card. You may want to consider alternatives, such as a bank account.
Prepaid cards vs. debit cards:
A prepaid card is not linked to a bank checking account or to a credit union share draft account. Instead, you are spending money you placed in the prepaid card account in advance. This is sometimes called loading money onto the card.
Generally, you can't spend more money than you have already loaded onto your prepaid card.  Overspending can occur with a checking account for some types of uses, and with a bank account debit card if you have "opted in" to your bank's overdraft program. This means that your bank may charge you a fee for covering the cost of a purchase or ATM withdrawal that exceeds what you have in your account. Your bank will also require you to repay the overdraft.
Prepaid cards vs. credit cards:
Prepaid cards are very different from credit cards.  This can be confusing because both types of cards may have a card network logo like Visa, MasterCard, American Express, or Discover on them. When you use a credit card, you are borrowing money. Generally, when you use a prepaid card, you are spending money you loaded onto the card in advance. However, if your prepaid card provider offers credit (including overdraft) on your prepaid card, it will need to comply with the rules for other credit cards.
Don't forget to register your card!
It's a good idea to register your prepaid card. Registration will provide you with more protections if your card is lost or stolen. Some prepaid card providers may require you to register your card and verify your identity when you buy or receive the prepaid card, or soon after. The card provider likely will limit how you can use the card until the card is registered.
Registration is also necessary for FDIC or NCUA insurance (if it is offered for your card), which protects you if the bank or credit union issuing your card goes out of business.