Your Money, Your Goals toolkit
The toolkit has information that helps you have money conversations with the people you serve. Use the tools to help achieve goals and work through challenges.
You can use the toolkit to help people:
Make spending decisions that can help them reach their goals
Order and fix credit reports
Make decisions about repaying debts and taking on new debt
Keep track of their income and bills
And much more!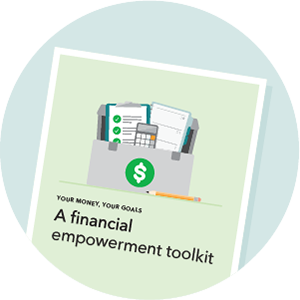 Access the full toolkit
The toolkit includes: 
43 tools and handouts
Easy-to-follow directions so you can use tools confidently
Recommendations on which tools to use based on the situation and time available
Order a printed copy
Printed copies of the toolkit are available free of cost in English (Updated June 2020) and Spanish (Updated Dec. 2016).
Access training resources
Train staff or volunteers to use the Your Money, Your Goals toolkit and measure the results of your trainings.
Download individual tools and handouts
The 43 tools and handouts from the full toolkit are now available as individual, fillable pdfs. Find resources below to help meet the needs of each person you're working with. 
Starting the Money Conversation
| Description | Action |
| --- | --- |
| Financial empowerment self-assessment | |
| My money picture | |
Setting Goals
| Description | Action |
| --- | --- |
| Setting SMART goals | |
| Putting goals into action | |
| Planning for life events and large purchases | |
| Revising goals | |
Saving
| Description | Action |
| --- | --- |
| Savings plan | |
| Saving and asset limits | |
| Finding a place for savings | |
| Saving at tax time | |
Tracking Income and Benefits
| Description | Action |
| --- | --- |
| Income and benefits tracker | |
| Choosing how to get paid | |
| Increasing income and benefits | |
Paying Bills
| Description | Action |
| --- | --- |
| Spending tracker | |
| Bill calendar | |
| Choosing how to pay bills | |
| Cutting expenses | |
| Prioritizing bills | |
Getting through the Month
| Description | Action |
| --- | --- |
| Creating a cash flow budget | |
| Improving cash flow | |
| Adjusting your cash flow | |
Dealing with Debt
| Description | Action |
| --- | --- |
| Debt log | |
| Debt-to-income calculator | |
| Debt action plan | |
| Comparing auto loans | |
| Repaying student loans | |
| When debt collectors call | |
| Avoiding medical debt | |
Understanding Credit Reports and Scores
| Description | Action |
| --- | --- |
| Requesting your free credit reports | |
| Reviewing your credit reports | |
| Disputing errors on your credit reports | |
| Getting and keeping a good credit history | |
Choosing Financial Products and Services
| Description | Action |
| --- | --- |
| Finding financial products and services | |
| Comparing financial service providers | |
| Opening a checking or savings account | |
| Avoiding checking account fees | |
| Evaluating your prepaid or payroll card | |
| Knowing your prepaid card rights | |
| Sending money abroad | |
Protecting your Money
| Description | Action |
| --- | --- |
| Protecting your identity | |
| How to handle identity theft | |
| Spotting red flags | |
| Submitting a complaint | |