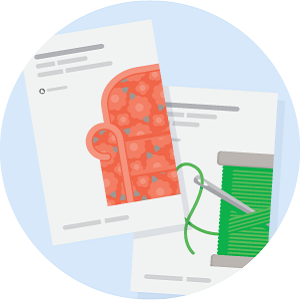 Money as You Grow Bookshelf
With Money as You Grow Bookshelf, children's storybooks can help parents and caregivers of young children build key money skills.
For money management and protection
For retirement planning and beyond
The Social Security Administration is partnering with local libraries to conduct my Social Security sign up events. my Social Security is a free online account that allows people quick and secure access to their personal Social Security information. You may also consider pairing a sign-up day with help and information on Social Security retirement benefits. Social Security retirement benefits are part of almost every American's retirement plans. Provide information on retirement saving, or show patrons how to use the online Retirement Estimator. Contact the Social Security Regional Communications Director  in your area to coordinate program details.
Presenters
Regional or local Social Security employees
Organizations that can help spread the word
Local financial planners
Local employers
Online resources
No one wants to admit to themselves that they could be potential victims of fraud. Consider framing this workshop on how to protect others you are close to, a mother or father, a friend or relative. You may also want to consider offsite workshops and provide additional resources online or at the library.
Presenters
Adult Protective Services or local elder abuse prevention coalition (contact the local Area Agency on Aging)
District or State Attorney's Office
Local police - financial crime investigators
United States Postal Inspector Service
State or local AARP fraud prevention specialists
Cooperative Extension System
Organizations that can help spread the word
Area Agency on Aging
Retirement communities
Congregate senior housing and care facilities
Senior centers
Faith-based organizations
Local hospitals
Community calendars and centers
Online resources
Workshop resources
Money Smart for Older Adults: Prevent Financial Exploitation is an instructor-led training curriculum developed jointly by the Federal Deposit Insurance Corporation and the Consumer Financial Protection Bureau. The program raises awareness among older adults and their caregivers on how to prevent elder financial exploitation and encourages advance planning and informed financial decision making. The 

module

includes an Instructor Guide, PowerPoint and Participant Resource Guide. You can view a 

PDF

 of the Resource Guide, or

order free copies

.
Trick$ of the Trade: Outsmarting Investment Fraud. An hour-long video documentary developed by the FINRA Investor Education Foundation, in partnership with AARP on preventing investment fraud. Utilizing compelling stories of victims and perpetrators, the video uncovers the persuasion tactics that con artists use to defraud their victims and the basic tools investors can use to defend against fraud. Order free copies by calling (866) 973-4672. There is also an accompanying 

Fighting Fraud Partner Toolkit

.
Fleeced: Speaking Out Against Senior Financial Fraud. Produced by the National Community Reinvestment Coalition and WFYI Productions, this informative Emmy award winning film explains the impact of financial exploitation on older adults through a series of true stories demonstrating how older adults and their families can transform from victims to advocates, speaking out on behalf of other older adults.
National Council on Aging Savvy Saving Seniors, Toolkit 2: Steps to Avoiding Scams.

Download or order

 trainer's guide, presentation slides, participant handbooks and more.
A Guide for Seniors: Protect Yourself Against Investment Fraud. This booklet by the Securities and Exchange Commission tells you how to check out an investment sales pitch for legitimacy, describes warning flags of fraud, types of fraud, and what to know about "senior" specialists and advisors. 

Order online

.