Warning: Lottery scam using a CFPB employee's name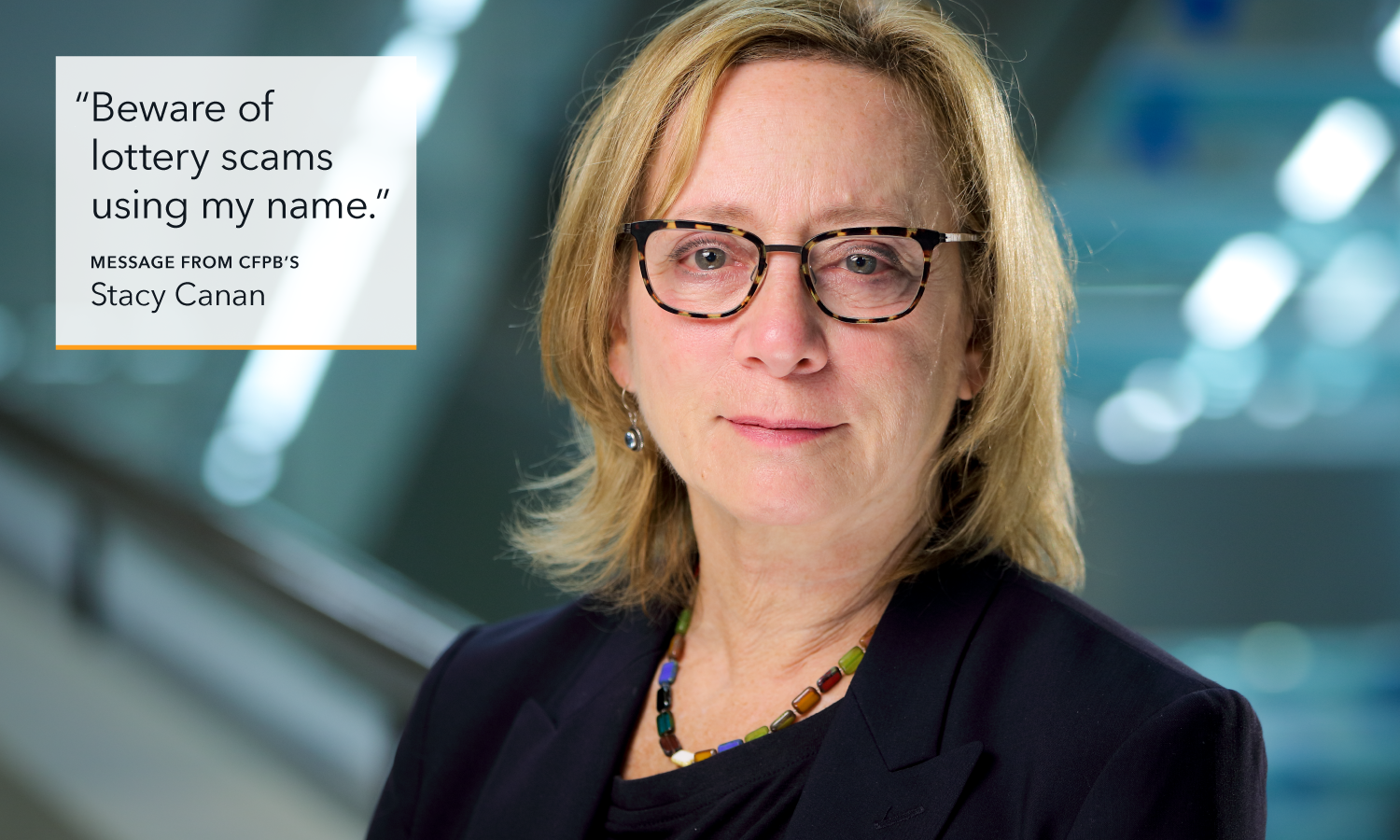 I'm Stacy Canan, I lead the Office for Older Americans at the Consumer Financial Protection Bureau, and I'm never going to call you to confirm that you have won a lottery or sweepstakes. 
I just found out that my name is being used in an elaborate imposter scam. An imposter scam happens when a criminal tricks you by claiming to be someone you trust. In this case, the scammers are claiming to be me in order to take advantage of you—and steal your money. 
This scam has four basic parts:
You receive a call notifying you that you've won a lottery or sweepstakes prize. Several other calls will follow.

One of these calls may come from an imposter claiming to be Stacy Canan, or another CFPB or U.S. government agency official who confirms that you've won the prize. 

Later, you're told that in order to collect the prize, you must pay the taxes upfront. 

You send the money to pay the taxes and never hear from any of the callers again. 
Signs of an imposter scam
Scams like the above can happen on the phone, through the mail, e-mail, or over the internet. They can occur in person, at home, or at a business. Here are some common signs:
You are told you won a sweepstakes or drawing that you did not enter.

You're asked to pay upfront taxes or fees. 

You're being pressured to act now. Scammers don't want you to take the time to do research or to think too carefully before parting with your money. 

A person claiming to be a government official contacts you to confirm your winnings—the CFPB does not contact consumers about sweepstakes winnings.

Learn more about protecting yourself from financial scams or check the FTC's website to stay up-to-date on the most recent types of fraud.
Suspect you are being scammed? Report it!
If you suspect a scam, there are a few important steps you should take right away:

Report imposter scams to your law enforcement's non-emergency number. If you think someone's safety may be at risk, call 911.

If you suspect that someone is a victim of elder abuse or financial exploitation, report it to Adult Protective Services (APS). Find your local APS at

eldercare.gov

. 

Report imposter scams and financial abuse to your state attorney general and the Federal Trade Commission (FTC). Visit the

National Association of Attorneys General website

for the contact information of your state attorney general. Report scams to the FTC at

https://reportfraud.ftc.gov/

.
While it's true that I lead the CFPB's Office for Older Americans, I do not have access to lists or records of sweepstakes winners, nor do my colleagues. I'm angry that a scammer is using my name and taking advantage of trusting people to con them out of money.
If someone calls you and claims to be a CFPB official confirming a sweepstakes prize for you, this is a scam. CFPB staff do not collect information about lottery or sweepstakes winnings, nor do we call people to confirm winnings. Help prevent this scam and others like it from spreading. Share the tips above with your friends, family, and community.