Student loan borrowers should prepare to repay

Learn how to prepare for repayment and what your options are if you can't afford your payments.
Step 1: Make sure your contact info is accurate
When the pause ends, you will get a billing statement or other notice at least 3 weeks before your payment due date. Check and update your contact information on your StudentAid.gov profile and with your student loan servicer. Your servicer is the company that you send (or will send) your student loan payments to each month.
Contact your servicer
Use this list of federal student loan servicers to find contact information.
Not sure who your servicer is?
Visit

studentaid.gov

and go to your dashboard. Go to the "My Aid" section, and then select "View loan servicer details."
Or call the Federal Student Aid Information Center (FSAIC) at 1-800-433-3243.
---
Step 2: Understand your options if you can't afford payments
Your options will depend on whether the loan is federal or private.
Federal loans
Check out income-driven repayment plans
Income-driven repayment plans can provide payments as low as $0, depending on your income or family size. You may be able to enroll online without calling your servicer by visiting studentaid.gov . If you already have an income-driven repayment plan but your income or family size has changed, ask your servicer to recalculate your monthly payment.
Use the Department of Education's Loan Simulator to choose a repayment plan
Learn about temporary payment pauses
If you still can't afford your payment and you only need a temporary pause on payments, consider a deferment or forbearance. Generally you will accrue interest during these pauses; if you can pay off the interest before the pause ends, you can avoid capitalization costs. Putting your loans into a deferment or forbearance will not result in negative credit reporting.
Private loans
Ask your lender about your options
Many private lenders have already implemented forbearance options that allow borrowers to postpone monthly payments, some for up to 90 days. Some private lenders also are waiving late fees and will not file negative reports to consumer reporting agencies. Some private lenders also offer their own reduced payment options. To find out what is available to you, contact your student loan servicer.
Not sure if you have a private loan or who services it? That information may be on your credit report. Check your credit report for free.
Co-signed a private student loan?
If you've co-signed a private student loan, you have a financial responsibility and legal obligation, just like the primary borrower does, to make sure the loan is being repaid. Missed payments can hurt your credit as well as the borrower's.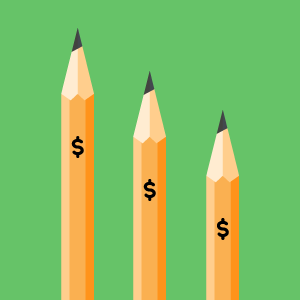 Learn more about loan repayment options
If you have questions about repaying student loans, check out our repayment tool to find out more about how you can tackle your student loan debt.
Step 3: Watch out for scams
Scammers are targeting student loan borrowers and may be trying to take advantage of circumstances related to the pandemic and government relief packages. If someone contacts you and asks for personal information or money to suspend your student loan payment or cancel your student loan debt, it's a scam.
It may be a scam if someone you don't know:
asks you to verify your income, social security number, or other personal information over the phone
promises to reduce or eliminate your student loans
requests your Federal Student Aid information
pressures you to pay up-front fees
claims to be affiliated with the Department of Education or your current student loan servicer
Learn more about the other warning signs of a debt relief scam.
If you suspect someone who contacted you is a scammer, report them to the FTC's complaint assistant .