Help your workforce build emergency savings
Find out about the four elements of Start Small, Save Up – our model for encouraging people to build emergency savings in the workplace.

Emergency savings are critical to a person's financial well-being. A lack of short-term savings causes financial stress and can result in significant financial hardship when the unexpected happens. Without a cash cushion, people are less able to save for education, homeownership, retirement, and other long-term goals.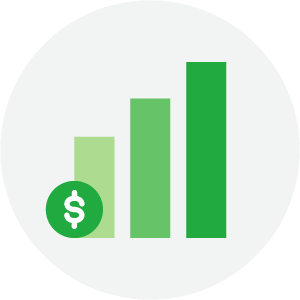 Collaborate with us on Start Small, Save Up
We are eager to talk with you, no matter where you are in your journey to promote emergency savings in your workforce. Whether you're just starting out, or whether you have results to report, we want to hear from you! 
Elements of Start Small, Save Up
1. Splitting paychecks to make saving automatic
Cut down on hassle and help your workers save automatically. Allow them to split their paychecks, so they can put a portion of their pay in a checking account and a portion in a savings account. If this is an option you already offer, help more people take advantage of it:
Remind workers periodically about the availability of splitting paychecks and the benefits.
Let workers precommit to save, by directing a part of an upcoming raise or bonus to a savings account.
2. Offering incentives and motivation
Create a reward system that reflects your workplace culture. Even informal rewards and recognition can be as effective as financial incentives and prizes:
Set up a program that encourages participation, like having a buddy system to help people sign up to save, or having a contest among work groups.
Contributing matched savings amounts or a bonus for opening an account can help reinforce the motivation to save.
3. Delivering effective financial education
While you're talking about saving, incorporate five principles that make financial education effective, according to practitioners:
Know the individuals and families to be served 
Provide actionable, relevant, and timely information 
Improve key financial skills 
Build on motivation 
Make it easy to make good decisions and follow through
Your current benefits providers may be able to help you with financial education programs and materials. You can also connect with local organizations that provide counseling, coaching, workshops, and other activities. Your public library may be able to help refer you to these organizations.
4. Measuring activity and impact
You might have existing ways to monitor how many people take advantage of benefits programs, including automated savings through your payroll system. You might also measure how people interact with the educational materials provided, or the activities you offer to build motivation.
Going further, employers can evaluate the connection between savings activity and metrics that impact the organization, like:
Worker satisfaction and retention
Retirement plan participation, hardship withdrawals, and loans
Workforce stress and associated costs
Absenteeism and productivity