Get your finances in shape
Being in debt can make everyday money decisions overwhelming. Sometimes, the hardest part of taking control of your finances is knowing where to start. 
Take your first step by signing up for the Get a Handle on Debt Boot Camp, a 9-part email course to help you get your finances back in shape. 
Sign up for our 21-day email course for tips, strategies, and other ways to get a handle on debt.
The right tools, right in your inbox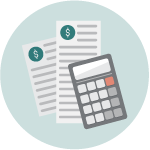 The Get a Handle on Debt Boot Camp delivers easy-to-follow money management tools and strategies directly to your inbox. Here's what you can expect:
Understand where your money is coming from and where it's going
Build a budget you can stick to 
Learn strategies for paying off your debt
Develop ways to help hold yourself accountable