Regional directors
Our Office of Supervision Examinations regional directors lead a staff of examiners who supervise the entities we regulate across the country to ensure they comply with federal consumer financial protection laws. The regional directors come from both the private and public sectors and bring extensive knowledge of consumer financial protection and regulatory compliance.
Each of our regional directors is responsible for leading a staff that consists of three assistant regional directors; more than 100 examiners; and a team of field managers, analysts, and administrative assistants.
Our four regional headquarters are located in:
San Francisco

Chicago

New York

Atlanta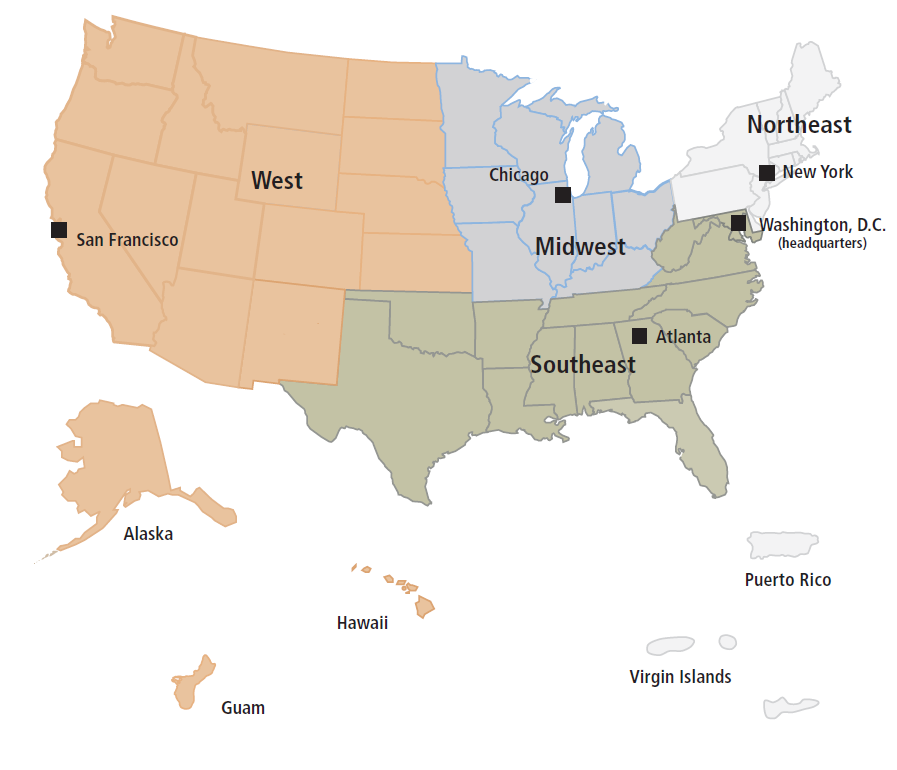 Regional directors
West region (CA, NV, UT, CO, KS, AZ, NM, WA, OR, ID, MT, WY, ND, SD, NE, AK, HI, and GU)
Kent Stember (Acting)
Kent joined the CFPB in October 2013.  Prior to joining the CFPB, Kent was an underwriting supervisor at a Fortune 50 finance company for 10 years.  He then served the State of Kansas in the Office of the State Bank Commissioner (OSBC) for 15 years.  While at the OSBC, he served as a safety and soundness examiner, a compliance examiner, review examiner, and the Director of Examination Operations.  As the Director of Examination Operations at the OSBC, Kent was an integral part in the development of the OSBC's non-depository oversight program.  As the Director he also oversaw all day-to-day operations of the examination staff and the licensing program for the OSBC.
Kent is a federally commissioned consumer protection examiner and a graduate of Washburn University with a BBA in Finance.
Midwest region (MN, IA, IL, MI, OH, IN, KY, MO, and WI)
John Schroeder
Before joining the CFPB, John served the Indiana Department of Financial Institutions (IDFI) for 23 years, most recently as the general counsel and deputy director of consumer credit. While at IDFI, he also served as bank examiner, senior bank analyst, review examiner, and supervisor of administration. In addition to his regulatory experience, John worked in the retail management area within the former Bank One and also as a corporate finance associate with Raffensperger Hughes and Company, a regional investment bank formerly headquartered in Indianapolis.
John is a graduate of the Indiana University Kelley School of Business and holds a JD from the Indiana University McKinney School of Law.
Northeast region (CT, DE, MA, ME, NH, NJ, NY, PA, RI, VT, VI and PR)
Mitchell Kent
Mitchell joined the CFPB after serving at the New York State Department of Financial Services (DFS), where he was director and counsel of the Consumer Examination Unit. At DFS, Mitchell managed a team of consumer compliance examiners in Community Reinvestment Act examinations and consumer compliance and fair lending examinations. Mitchell also served as the states' representative to the FFIEC Task Force on Consumer Compliance. Previously, Mitchell served as director of legislative policy and special counsel for the NYC Department of Consumer Affairs and before that as director of research for Chairman Max Baucus for the U.S. Senate Committee on Finance. In this role, he drafted and guided into law Child Tax Credit and Earned Income Credit expansions during the 2001 tax cuts, resulting in billions of dollars more in refunds for low‐income families with children.
Mitchell graduated from Cornell University and holds a JD from the New York University School of Law.
Southeast region (AL, AR, FL, GA, LA, MD, MS, NC, OK, SC, TN, TX, VA, and WV)
Fatima Batie
Fatima joined the CFPB in April 2011. Prior to joining the CFPB, Fatima served the Washington Department of Financial Institutions (DFI) as a financial legal examiner and as a financial legal examiner supervisor managing a team of attorneys and examiners responsible for consumer compliance regulations and licensing. In addition to her regulatory experience, Fatima served the citizens of Scott County, Minnesota as a prosecutor, responsible for both juvenile and criminal prosecution as well as civil litigation.
Fatima graduated from Troy University with a bachelor's degree in Political Science; Metropolitan State University with a bachelor's degree in Accounting; and holds a JD from Drake University School of Law.